Report accuses Myanmar of genocide against Rohingya Muslims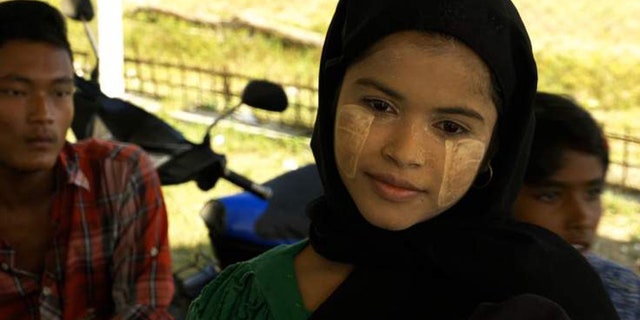 Accusations have been made of a systematic campaign of genocide against Rohingya Muslims in Myanmar.
A report by Yale University has found there was strong evidence large numbers of the minority group are being deliberately persecuted by the country's government, with many killed.
Following race riots in 2012, which it is claimed were orchestrated by the military, more than 140,000 Rohingyas were relocated to ghetto-like camps.
Sky's Asia Correspondent Katie Stallard reports from one of them, in Sittwe, Rakhine state.
Hussein-Ara Begum's baby is sick and clearly distressed. They're waiting in the hot sun outside the clinic in the camp for internally displaced people (IDP) where they live.
His head has grown abnormally large. She doesn't know what's wrong with him. Hussein-Ara and her baby are Rohingya Muslims - one of the world's most vulnerable minorities. They are stateless. The Rohingya's citizenship was revoked in 1982.
Some 143,000 are now living in what were meant to be temporary camps after violent race riots in 2012, but with no end in sight.
As far as Myanmar's government is concerned, they are foreign immigrants, despite references to their existence here dating back centuries.
The young mother explains quietly that her husband died on board a people smuggler's boat last year - he was trying to reach Malaysia to earn money to send back. Now she and the baby are on their own.
Yale Law School announced today that there is persuasive evidence that genocide is being committed against the Rohingya in Myanmar (also known as Burma).
The analysis is based on nearly a three-year long investigation by the campaign group Fortify Rights, including eyewitness and survivor testimony, internal government and UN documents.
They called today for a UN Commission of Inquiry into international crimes against the Rohingya, including the crime of genocide.
Sky News visited several IDP camps in northwest Myanmar to see conditions for ourselves.
In one camp clinic we found patients who were frightened of being sent to the hospital in the state capital, six miles outside the camp, because they were afraid they would be beaten.
A senior doctor at the hospital assured us this was not the case - that all patients were treated with "tender, loving care" but people in the camp told us repeatedly that they were afraid.
The fear works both ways. We saw Buddhist monasteries close to the camps being guarded by armed soldiers,keeping watch from sandbagged positions by the main gates.
The head of the Shwe Zar Di Monastery in Sittwe,the Venerable Aria Vansa, told us it was the Buddhists who were under attack.
He refused to acknowledge the word Rohingya - he said it was not the name of a race.
"Indonesia was a Buddhist land, and Malaysia," he said.
"They have all become Islamic states, also Afghanistan and Turkey.
"We don't attack them - they come to attack us. We just defend."
Back in the camp, it was hard to find much evidence of people on the attack - what we found instead was a 13-year-old boy inside a small, wooden shelter, desperately ill with malaria.
The boy's parents have kept every scrap of paper they have been given by nurses and pharmacists - they store them carefully in a small plastic bag.
The father worked pulling a rickshaw before the riots - now he has no job and no money to help his son.
Outside, a woman was waiting to show us her child. She pulled up his T-shirt - his belly was distended, a common sign of malnutrition, one leg had become painfully thin.
He was listless and small, around the size of a toddler. She told us the little boy was six-years-old. In another part of the camp, another family was preparing to bury their son. Nadir Hussein was 25-years-old.
Outside these camps, this country is preparing for next week's historic election. Aung San Suu Kyi - Nobel Peace laureate and arguably one of the greatest living symbols of human rights - is running for office.
But the people in this camp will not get a vote. And so far Ms Suu Kyi has been largely silent on the human rights of the Rohingya.
As they lay another young man to rest here, they want to know when someone is going to speak up for them.