Rebels, C. African Republic leaders head to talks in Gabon after month of towns captured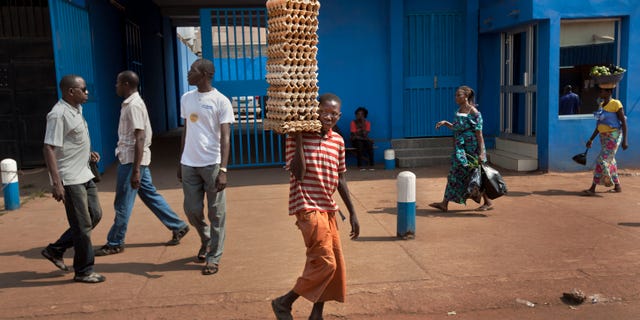 BANGUI, Central African Republic – Delegations representing Central African Republic's government and the rebels who now control much of the country's north headed Monday to hold peace talks in Gabon, though already there are concerns about what will happen if those negotiations fail.
This week's meetings in Libreville, Gabon, come a month after fighters from several armed groups began their rebellion against a government that has wielded little power over its vast and sparsely populated north.
While the rebels have halted their advance toward the capital of Bangui, a city of 700,000 people, they now hold a dozen communities. The rebellion has posed the greatest threat to President Francois Bozize's presidency since he himself seized power in 2003.
Bozize already has offered up the possibility of a coalition government, a proposal the rebels have dismissed. A rebel spokesman has said the fighters want Bozize gone, a stipulation that could derail talks altogether.
Some residents of this nation of 4.4 million have little faith the government will be able to reach a lasting agreement with the rebels, especially given that multiple peace accords already have been signed over the years with multiple groups.
"Even if the rebel leaders reach an agreement with the Bangui government, their people on the ground will not get their piece of cake," said Henry Yenzapa, 42, a history professor at the University of Bangui. They're just carrying out a formality in Libreville in order to return, and the Central African crisis will never be resolved."
While the rebels had vowed to halt their advance pending the negotiations, residents said two communities were seized over the weekend.
In the capital the presence of regional troops who have been sent from Gabon, Cameroon, Republic of Congo and Chad to help stabilize the country has reassured residents. South Africa also has said it is sending several hundred soldiers to help support national forces here.
"The military aid provided by the (10-nation) Economic Community of Central African States reassures us that the rebels are not going to continue their advance in the direction of Bangui," said Patrick Bangui, a 27-year-old student.
Meetings are to begin Tuesday, with high-level discussions due to take place later in the week.
The shaky rebel alliance, Seleka, is made up of four rebel groups all known by their French acronyms — UFDR, CPJP, FDPC and CPSK.
Cyriaque Gonda, who has negotiated on behalf of the government with the rebels and will be in Gabon this week, says some of them couldn't even accept sitting together as recently as 2008. In September 2011, fighting between the CPJP and the UFDR left at least 50 people dead in the town of Bria and more than 700 homes destroyed.
Gonda noted that the Bozize government already has signed several agreements with each rebel movement.
"I am convinced that this meeting is the last chance," he said. "This is the last time."
The rebels want to renegotiate those previous accords from 2007, and say that key provisions were never fully implemented. Gonda said there have been financial constraints that have prevented the desperately poor country from completing the demobilization process.
The rebels "are going to have zero confidence in many promises that Bozize makes," said Jennifer Cooke, director of the Africa program at the Washington-based Center for Strategic and International Studies. Still, she had a scrap of optimism.
"There's a possibility of an agreement — the question is building confidence on both sides, particularly the rebel side and maintaining it going forward," Cooke said.
___
Associated Press writers Hippolyte Marboua in Bangui, Central African Republic and Yves Laurent Goma in Libreville, Gabon contributed to this report.