Questions grow over whether Japanese PM's military plans conflict with pacifist constitution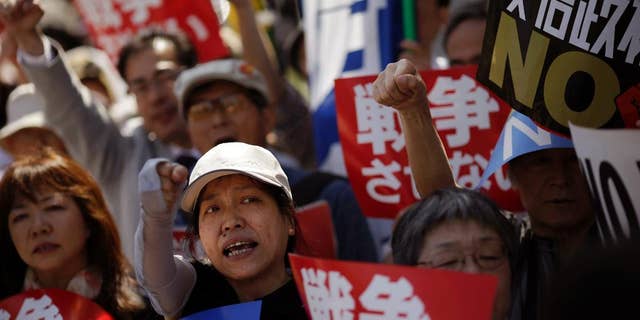 TOKYO – Japanese Prime Minister Shinzo Abe's pledge to the U.S. to increase Japan's military contribution internationally is facing more questions about potential conflicts with the nation's pacifist Constitution.
Opposition lawmakers demanded answers from key Cabinet members at a hearing Wednesday, after three prominent constitution experts — including one chosen by Abe's ruling party — unanimously told a parliamentary committee last week that legislation allowing Japanese troops to defend foreign militaries would violate the war-renouncing Article 9 of Japan's postwar constitution.
The development energized the opposition, adding to unease within the ruling party as public opinion polls show both opposition to Abe's security legislation and confusion about why it's needed.
It also raises questions about how far Japan can expand its military activities under its constitution, and whether it should be revised.