Pro-Kremlin party piles pressure on Medvedev's government, asks for resignations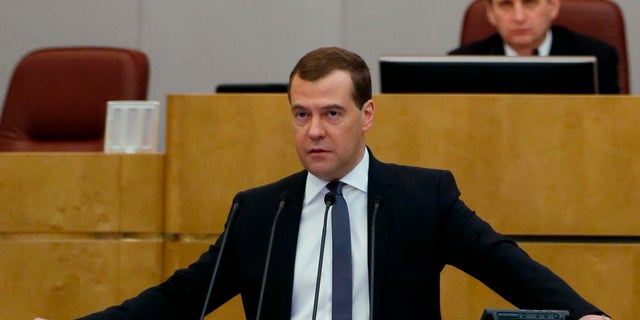 MOSCOW – The leader of the main Kremlin party in Russia's parliament said Wednesday that he hopes some government ministers will resign because they are unfit for their jobs.
Vladimir Vasilyev's attack on Prime Minister Dmitry Medvedev's government came two hours after a news website showed President Vladimir Putin threatening to dismiss unseen people. The video appeared to have been taken at a meeting on Tuesday attended by government ministers.
The website, Life News, is reported to enjoy close links with the Kremlin and is well-known for leaking documents and videos that appear to have come from authorities.
"It's either me who does an inefficient job or all of you are doing a bad job and you have to go. I have to tell you that at the moment I'm inclined toward the latter option," Putin said in the video, which was also aired on state television.
Putin's spokesman Dmitry Peskov told news agencies later on Wednesday that the president's outburst was directed at several regional governors who were also at that meeting, not government ministers.
Medvedev and his government on Wednesday faced a grilling in the parliament from opposition as well as pro-Kremlin factions. Vasilyev, who chairs the United Russia party faction in the lower house, said its relations with the education minister are "not working out" and called for resignations without giving names.
"We hope that in the government, too, people will start handing in their resignations because they will realize they're unfit for the job — that's natural," he said, referring to a recent wave of resignations from the parliament inspired by corruption scandals.
Vasilyev also berated Medvedev's government for submitting bills to the parliament without consulting lawmakers first.
Medvedev is the leader of United Russia. Putin formerly led United Russia but currently has no affiliation with it.