Pope's visit to Cuba helped lead to breakthrough in Colombia peace talks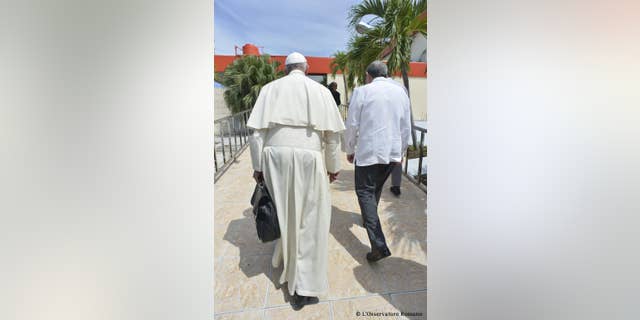 CARACAS, Venezuela – Pope Francis may not have directly facilitated Wednesday's breakthrough in talks to end Colombia's half-century armed conflict, but the spirit of the popular pontiff hovered over the negotiation of the historic agreement, people involved in the talks said.
Colombian President Juan Manuel Santos and Revolutionary Armed Forces of Colombia leaders announced in Havana that they had overcome the last significant obstacle to a peace deal by settling on a formula to punish belligerents for human rights abuses committed during the fighting. They vowed a final deal to end Colombia's armed conflict with six months.
The surprise agreement after years of negotiations was achieved partly because of the desire by the rebels to make the announcement during the pope's visit to Cuba this week. Rebel negotiators worked through a final 20-hour session last week to achieve this goal, people involved said.
Despite their efforts, the agreement was announced a day after the pope left the communist-led island for the U.S. leg of his trip.
"Without even being present physically in the room, the pope was a very important presence," said Douglass Cassel, a University of Notre Dame law professor who was one of three lawyers for the government who hammered out the final workings of Wednesday's agreement.
The FARC guerrillas had wanted to meet with the pope in Havana, but the Vatican made it clear that no such meeting would take place. Instead, Francis issued a broad appeal during his Sunday Mass in Cuba exhorting both sides not to let pass the best chance at peace in decades.
"Please, we do not have the right to allow ourselves yet another failure on this path of peace and reconciliation," he said.
Despite his lack of direct involvement in the talks, the Vatican nonetheless credited Francis' appeal with helping to nudge the negotiations to a conclusion.
"If you recall, on Sunday, the pope had a very strong appeal to find a solution to the problem," Lombardi told reporters in Washington, where Francis was visiting. "Maybe we can connect this good news of today with the appeal of the pope on Sunday. I think this is a positive sign."
___
AP Writer Joshua Goodman contributed to this report from Bogota, Colombia and Nicole Winfield from Washington.