Pope Francis warms the heart of New Yorkers in packed St. Patrick's Cathedral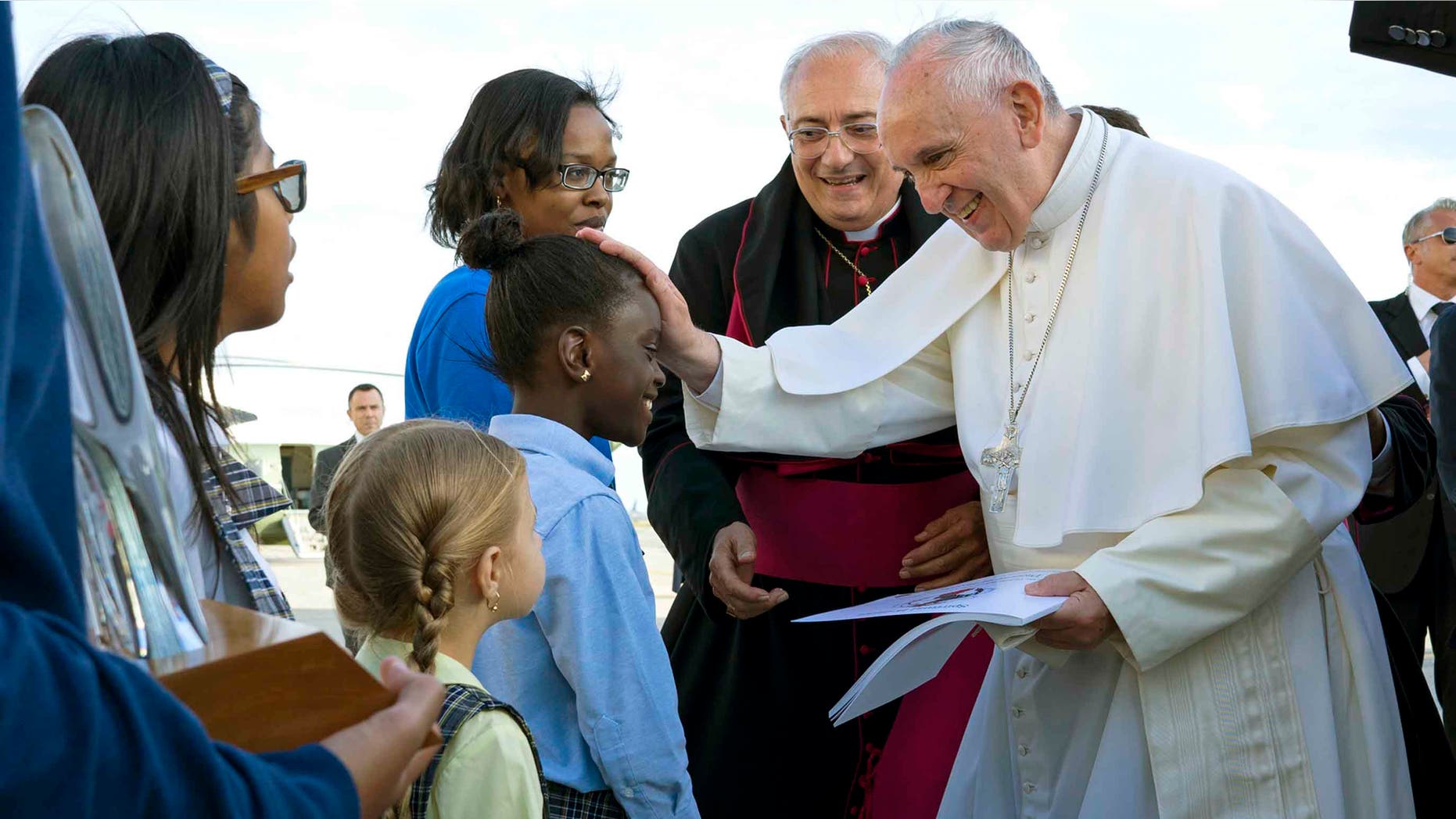 Pope Francis arrived to a warm welcome on his first visit to New York, where his busy schedule continued with an evening prayer service in the recently spruced up St. Patrick's Cathedral.
After flying in from Washington, the pontiff arrived in Manhattan by helicopter and hopped into a Fiat hatchback, traveling in the same modest style as he did in Washington.
Outside St. Patrick's, hundreds of faithful and fans waited for hours just to catch a glimpse of the beloved Argentinian pontiff, who arrived a few minutes before the 6:45 p.m. vespers.
In the crowd was also New York City Mayor Bill De Blasio, who took the time to greet school students at the steps of the cathedral, posing for photos, before moving on to the groups of onlookers near the Fifth Avenue landmark.
As anticipation grew for the pope's arrival, some of the students lining the steps to the cathedral pulled out a Mexican flag.
On Friday, Francis' schedule includes addressing world leaders at the United Nations, participating in an interfaith service at the Sept. 11 memorial museum at ground zero, visiting a school and taking a processional drive through Central Park. He also will celebrate Mass at the Madison Square Garden arena.
In Washington earlier Thursday, the pope had waded into bitter disputes while speaking to Congress, entreating the nation to share its immense wealth with those less fortunate. Lawmakers gave rousing ovations to the leader of the world's Catholics despite obvious disagreements over some of his pleas.
After he addressed Congress, the first pontiff to do so, he underscored his message by traveling directly to a downtown Washington church, where he mingled with needy and homeless people, blessed their noontime meal and walked among them while they ate.
Soon after, he headed by plane to New York, second stop on his three-city first visit to the U.S. After arriving at John F. Kennedy International Airport in Queens, he boarded a helicopter to Manhattan, where the cathedral is located. He addresses the U.N. on Friday and wraps up his visit this weekend in Philadelphia, where he speaks in front of Independence Hall and celebrates Mass on the Benjamin Franklin Parkway.
At the Capitol, the remarkable sight of the pope speaking in the House chamber seemed to delight lawmakers of all persuasions, though he offered an agenda more to Democrats' liking. Besides his focus on climate change and immigration, he denounced arms sales and seemed to allude approvingly to the Iran nuclear deal and recent actions by President Barack Obama's administration to open relations with Cuba, done with his urging.
Republicans, too, heard something to like in his references to the sanctity of life and family relations, reminders that even the more open Catholic Church over which Francis presides still condemns abortion and gay marriage.
For all the spectacle, it seemed unlikely the pope's visit would break congressional inertia on the issues dear to him, with no action in sight from the Republican majority on global warming or immigration.
But Francis, in his historic speech, seemed determined to remind the United States of its foundations as a country made up of foreigners, addressing the chamber and the American people beyond in personal terms as a son of immigrants to "this great continent."
"We must resolve now to live as nobly and as justly as possible as we educate new generations not to turn their back on our neighbors and everything around us," he said. "We must not be taken aback by their numbers but rather view them as persons, seeing their faces and listening to their stories, trying to respond as best we can to their situation."
After the address, Francis appeared high on a Capitol balcony and addressed a cheering crowd of thousands below on the lawn and the Mall beyond who had watched his speech on giant TV screens.
"Buenos dias," he called out in the language of his native Argentina and millions of U.S. immigrants, legal and not.
The crowd thundered its response.
Francis asked the crowd to pray for him, as he always does. But speaking in Spanish, he added a line to acknowledge that not everyone there was a believer.
"If among you there are some who don't believe or who cannot pray, I ask that you send good wishes my way," he said, to tumultuous applause.
"God bless America!" he concluded, as he had in the House chamber.
After leaving the Capitol, the pope brought encouragement to a much smaller group: a gathering of homeless and needy people at St. Patrick's Church and Catholic Charities in Washington. He decried a lack of housing for the poor and declared there is "no justification whatsoever" for homelessness.
The Associated Press contributed to this report.
Like us on Facebook