Peru investigating Greenpeace activist's role in PR stunt alleged to have damaged Nazca lines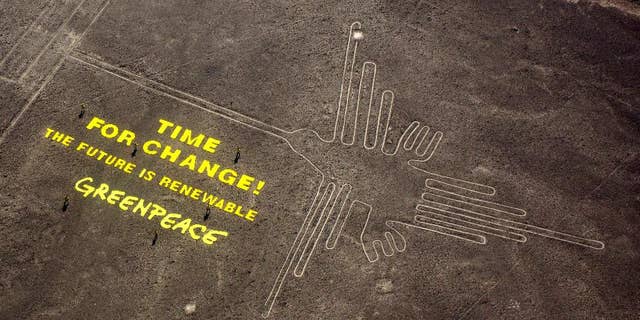 LIMA, Peru – A Peruvian prosecutor is investigating the suspected involvement of a Greenpeace activist in a publicity stunt that allegedly damaged the world-renowned Nazca lines.
Authorities have said the fragile site was damaged by footprints made when activists sneaked into the desert area on Dec. 8. Acting to coincide with a U.N. conference on climate change held in Peru's capital, the group laid out a message promoting clean energy beside one of the site's most famous figures, a huge hummingbird.
Greenpeace Executive Director Kumi Naidoo told reporters Thursday night that prosecutor Patricia Begazo is conducting a preliminary investigation into Argentine activist Mauro Fernandez, who coordinates the organization's Andean Climate and Energy Campaign.
Peruvian officials have said they would seek charges for "attacking archaeological monuments," a crime punishable by up to six years in prison.
Fernandez and other activists left Peru after the stunt. It is not yet clear whether Peru would ask Fernandez to return or whether he would willingly do so.
Dating to some 1,500 to 2,000 years ago, the lines are scratched into the dark ground to reveal the lighter-colored earth underneath, creating huge figures in the shapes of real and imagined creatures and stylized plants.
Naidoo said he has suggested to Culture Minister Diana Alvarez-Calderon that Greenpeace and Peru "work together to protect the Nazca lines."