Paraguayan president's trial to start in Senate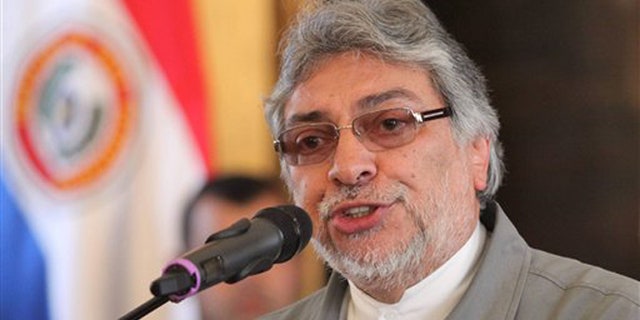 ASUNCION, Paraguay – Paraguay's fragile democracy was being put to the test on Friday as the Senate organized a trial of President Fernando Lugo for his role in a deadly clash involving landless farmers.
The impoverished, landlocked nation has a long history of political instability and Lugo's earlier announcement that he will not step aside sparked fears of possible violence following the lower house's vote to impeach the former Roman Catholic bishop.
Lugo, who was elected four years ago on promises that he would help the South American country's poor, went on national television Thursday vowing to face the trial "with all its consequences."
In an interview with the Venezuelan government's international broadcaster Telesur late Thursday, Lugo described the move against him as an "express coup d'etat."
"I hope that the parlimamentarians vote against the poloitical trail because we are hoping to strengthen democracy, the rule of law, and citizen participation," Lugo told Montecarlo radio station in the Uruguayan capital of Montevideo.
Lugo's attorney Adolfo Ferreiro asked Paraguay's Supreme Court to suspend the trial, arguing that the two hours being set aside for the president's defense is inadequate and could violate his rights of due process. Fabian Escobar, administrative secretary of the court, confirmed that Ferreiro's request had been received.
A delegation of officials from the Union of South American Nations, known as Unasur, arrived in Asuncion late Thursday to look into the proceedings.
"Although this is happening in Paraguay, it isn't limited to the borders of Paraguay," Unasur Secretary General Ali Rodriguez Araque said after his arrival. "It goes beyond that. It affects the Unasur body, in particular when it comes to the preservation of the democracy that has cost sweat, blood and tears."
The lower house voted 76-1 on Thursday to impeach Lugo, and hours later the Senate announced that it would begin his trial on Friday. The hearing was set for 1500 GMT.
In the capital of Asuncion, the vote prompted frightened residents to shutter businesses and pull children out of schools. Hospitals were put on red alert, freeing up beds in case of possible violence and injuries.
Paraguayans were unnerved by the possibility that the looming showdown in the opposition-controlled Senate could spark violent street protests such as those that followed the March 1999 assassination of Vice President Luis Maria Argana.
"We are not going to escape turbulence, it's coming," said Paraguayan political analyst Horacio Galeano Perrone, who specializes in national defense issues. "If you were to ask me, I'd tell you to go to the supermarket and buy batteries, buy everything."
Lugo's election in 2008 ended 61 years of rule by the Colorado Party, and he has constantly clashed with Congress, where he has few firm allies.
Socialist Carlos Filizzola, who until recently was Lugo's interior minister, called the impeachment vote by lawmakers an "institutional coup" and said he thought the president's fate had already been decided.
"The political trial is a formality," he said.
If ousted, Lugo would be replaced by Vice President Federico Franco. Franco, of the Authentic Radical Liberal Party, "is ready to assume command and pacify the country," said Liberal lawmaker Enrique Sallim Buzarquis.
It would be a sharp fall for the once-popular leader who stepped down as the Catholic "bishop of the poor" to run for the presidency amid a leftward swing in South America. Once in office, he was diagnosed with lymphatic cancer and was hounded by paternity scandals.
But the fall in Lugo's popularity arises partly from his failure to enact agrarian reform in a country where tens of thousands of people are demanding land, said Galeano Perrone, the analyst. This failure led to a loss of support from some peasant groups.
"The true problem is the lack of agrarian reform," he said. "We are facing a social explosion and a rural explosion."
Paraguay's land ownership problems stretch back nearly 140 years to a war Paraguay lost to Argentina, Brazil and Uruguay. Saddled with crushing war debt, Paraguay began selling off government holdings that amounted to 95 percent of the country, with the most fertile parcels going to political cronies.
Privatizations accelerated under the 1954-1989 dictatorship of Alfredo Stroessner and into the early 1990s, when about 17 million acres (7 million hectares) ended up in the hands of just 1,877 people, according to a 2004 government study.
Paraguay is now the world's No. 4 supplier of soybeans and land disputes have risen as farmers seek more land to grow the crop.
"Lugo isn't fulfilling his main election promise of carrying out agrarian reform but it is not his fault. The fault lies with a judicial system that blocks all attempts to expropriate land in the hands of foreigners or to recover formerly state land that was given to supporters of the dictatorship of Gen. Alfredo Stroessner," said Belarmino Balbuena, leader of the Paraguayan Campesino Movement.
Another reason for possible discontent was Lugo's request that the Senate archive a proposal to grant $50 million in funding for authorities to hire 10,000 registrars to inscribe new voters among other things. Some opponents accused the government of wanting to leave election authorities without funding and then order the postponement of elections so he could stay in power. Government officials have said the $50 million could be better spent elsewhere.
Lugo was elected with about 41 percent of the vote, but lacking legislative majorities his party was forced to strike deals with opponents to govern. As his popularity fell and the latest scandal erupted, his political allies deserted him, especially the vice president's Liberal party.
This cleared the way for the impeachment.
The trigger for the current impeachment was an attempt by police to evict about 150 farmers from a remote, 4,900-acre (2,000-hectare) reserve, which is part of a huge estate owned by a Colorado Party politician. Advocates for the farmers say the landowner used political influence to get the land from the state decades ago, and say it should have been put to use for land reform.
Seventeen people died in the clash and many people blamed Lugo.
Lugo, 61, has expressed sorrow at the confrontation and accepted the resignations of his interior minister and his chief of police.
On the streets of the Paraguayan capital, opinions about the impeachment effort were mixed.
"Lugo should finish his mandate," said Benito Canete, a 68-year-old concierge in an apartment building. "I think that if they get rid of him now it will be bad for the country."
Ana Campuzano, a 42-year-old odontologist, backed the ouster effort.
"Lugo should resign, it was bad for him to remain" after the deadly clash, she said. "It's his fault because he doesn't know how to manage things."