Occupy Wall Street Protests Go Worldwide, Turn Violent in Rome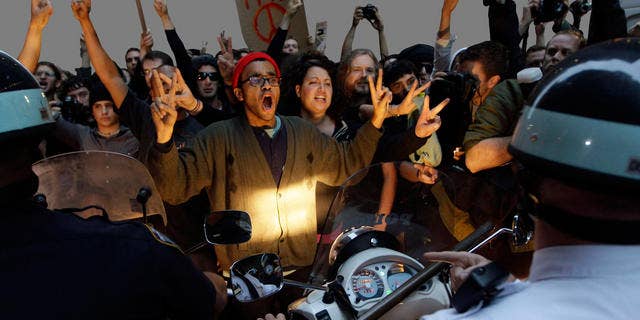 Protests against corporate greed and inequality were spreading to cities around the world Saturday, with rallies expected in more than 80 locations, including Spain, where such demonstrations were held as early as May.
In Rome, protests turned violent.
Protesters there smashed shop windows and torched cars as violence broke out during a demonstration in the Italian capital.
Black smoke billowed into the air in downtown Rome as a small group of violent protesters broke away from the main demonstration. They smashed car windows, set at least two vehicles on fire and assaulted two news crews of Sky Italia, the TV reported. Others burned Italian and European Union flags.
Police were out in force in Rome as some 100,000 protesters were expected a day after Premier Silvio Berlusconi barely survived a confidence vote. Italy, with a national debt ratio second only to Greece in the 17-nation eurozone, is rapidly becoming a focus of concern in Europe's debt crisis.
"People of Europe: Rise Up!" read a banner in Rome. Some peaceful demonstrators turned against the violent group and tried to stop them, hurling bottles at them, Sky and the ANSA news agency reported. Others fled, scared by the violence.
In Madrid, where hundreds took to Puerta del Sol square earlier this year, calling themselves "los indignados," or "The Indignant," demonstrations were planned for Saturday night.
In New York, where much of the momentum for the movement has been refueled – giving it an international spotlight -- anti-Wall Street protesters, who call the campaign "Occupy Wall Street," headed into Saturday campaigns emboldened by a change of plans among park property owners and police to usher them out of their lower Manhattan encampment for cleanup and impose restrictions that would have essentially shut down their Occupy Wall Street headquarters.
Supporters in Sydney, Australia, on Saturday waved signs such as "you can't eat money."
In Frankfurt, continental Europe's financial capital, some 5,000 people protested in front of the European Central Bank, while in London, around 500 people marched from St. Paul's cathedral to the nearby stock exchange.
Hundreds marched through the Bosnian city of Sarajevo carrying pictures of Che Guevara and old communist flags that read "Death to capitalism, freedom to the people."
Hundreds of people also joined peaceful protests in Sydney, Tokyo, Manila, Hong Kong and Seoul.
This story includes material from The Associated Press.
Follow us on twitter.com/foxnewslatino
Like us at facebook.com/foxnewslatino