Obama meets Russian gay activists amid crackdown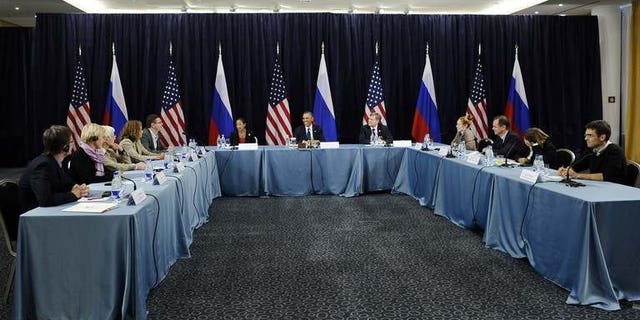 NEWYou can now listen to Fox News articles!
SAINT PETERSBURG (AFP) – US President Barack Obama on Friday met Russian gay rights activists after the G20 summit, in a symbol of US support for the community amid a furore over an "anti-gay" Russian law.
Two gay rights activists were among a group of nine Russian civil society members Obama briefly met just before taking off from Saint Petersburg after the two-day G20 summit hosted by President Vladimir Putin.
Speaking to the group at a hotel near the airport where his plane was waiting, Obama said he is "very proud" of the activists' work.
"The kinds of activities that are represented here are critically important to Russia's development," Obama said. The group also included defenders of business rights, environmentalists, and an investigative journalist from a Russian opposition paper.
"It's important to remember that in every country, here in Russia, in the United States, around the globe, that part of good government is making sure that we're creating space for civil society to function," Obama said.
This included ensuring "freedom of the press, freedom of assembly, and making sure that people can join together and make common cause around the issues that we care deeply about," he added.
Ahead of the event, gay activists told AFP they want it to be an "example for the Russian president," and hoped that they can raise awareness about discrimination against sexual minorities in the wake of a law Putin signed in June.
Russia has faced outrage from rights groups and gay communities in the West over the law that imposes fines for distributing "propaganda" about homosexuality to minors.
Critics have said that the vaguely written legislation would punish even holding hands in public for gays and plunge gay teens into an information vacuum.
Obama met with rights activists in 2009, when he visited Moscow for a breakthrough summit with then-president Dmitry Medvedev, but this time the White House specifically reached out to gay activists for the event.
"This meeting is itself important," said Igor Kochetkov, the head of the LGBT Network (lesbian, gay, bisexual, and transgender), adding that now "the discussion of human rights is impossible without the discussion of the rights of the LGBT community."
Putin said in an interview Tuesday that he would not mind meeting with gay activists himself if they express "initiative", adding that he "works with such people and even awards them medals".
Gay activists on Friday held a brief rally in the city centre, holding up placards "Politics is here, not in Strelna," referring to the site just outside the city where the G20 summit was held.
They faced off with several Orthodox activists who sang psalms while police cordoned off both pickets and later put the LGBT activists on a bus to ensure their safety.
Pavel Chikov, a human rights lawyer invited, said ahead of the meeting that it was "very symbolic" that Obama is meeting LGBT groups, who have not participated in similar meetings organised by the US delegation.
Chikov, who met with Obama during his state visit to Moscow in 2009, said the atmosphere had markedly changed since the US and Russia pledged to "reset" ties.
"That meeting happened in the romantic 'reset' period," he told AFP.
"The context is different now."
Several prominent rights campaigners in Moscow who were invited have decided not to come due to repeated rescheduling, but one of them, Svetlana Gannushkina, called on Obama to take a more decisive stand against rights violations.
"There should be a clear, firm, and unambiguous position and there should be relatively harsh political and economic measures toward countries that violate human rights, humanitarian laws and international conventions," the veteran activist said in a letter she passed to the US embassy that presented her excuses for her inability to attend.