North Korea vows 'thousands-fold' revenge in response to United Nations sanctions
North Korea vowed Monday to strike the U.S. with "thousands-fold" revenge after the United Nations imposed new sanctions in response to a recent intercontinental ballistic missile launch from the rogue regime.
The dictatorship's official KCNA news agency described the recent sanctions as "crimes" that were a "violent violation of our sovereignty" and a "heinous plot to isolate and stifle" the communist country.
North Korea, which consistently threatens to send "gift packages" to the U.S., vowed to take "righteous actions" that would make America pay "thousands of times."
The fiery response from the nation came in the face of the sanctions and as Secretary of State Rex Tillerson demanded the rogue nation halt its missile tests so the U.S. and North Korea could start negotiations.
Tillerson made the comments at a regional security meeting in Manilla, Philippines, and offered his most specific outline to date of what preconditions the U.S. has for talks with Pyongyang. He said stopping the launches would be the "first and strongest signal."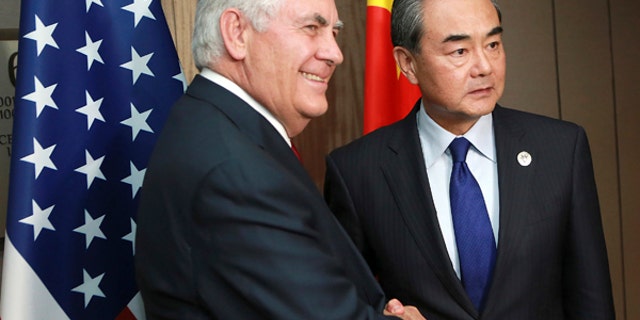 He added the caveat that it would not be as simple as The Hermit Kingdom simply stopping launches for a few days or weeks, saying that he would not give a concrete timeframe but that the U.S. will "know it when we see it."
The secretary of state also praised the most recent sanctions imposed on North Korea over their recent intercontinental ballistic missile tests, saying that it leaves no doubt in anyone's mind whether there is a common view on the matter among the international community.
The sanctions against the communist nation include a ban on coal and other exports worth more than $1 billion -- a huge bite in its total exports, valued at $3 billion last year.
The comments come after President Trump tweeted late Sunday that he spoke with South Korean President Moon Jae-In and was "very happy and impressed" with the United Nations Security Council's 15-0 vote to hit Kim Jong Un's regime with the tough new sanctions.
The White House added that Trump and Moon "committed to fully implement all relevant resolutions and to urge the international community to do so as well."
U.S. Ambassador to the United Nations Nikki Haley called the resolution "the single largest economic sanctions package ever leveled against the North Korean regime" and "the most stringent set of sanctions on any country in a generation."
Haley told Fox News' "Sunday Morning Futures," "What we basically did was kicked them in the stomach, told them to stop and told them they are not going to put up with it anymore and the ball is now in North Korea's court. They have a big decision to make. They can either respond by pulling back and said that they're not going to be part of this reckless activity anymore, or they can see where it goes and we'll continue to keep up the strength and keep up the activity to make sure that we stop them."
The sharp new U.N. sanctions also received a welcome boost on Sunday from China, North Korea's economic lifeline, as Beijing called on its neighbor to halt its missile and nuclear tests.
For the U.S., it was a long-awaited sign of progress for Trump's strategy of trying to enlist Beijing's help to squeeze North Korea diplomatically and economically. Chinese Foreign Minister Wang Yi, meeting with North Korea's top diplomat during the gathering in Manila, urged the North to "maintain calm" despite the U.N. vote.
"Do not violate the U.N.'s decision or provoke international society's goodwill by conducting missile launching or nuclear tests," Wang said, in an unusually direct admonition.
The North's statement issued Monday on state media came two days after the U.N. Security Council unanimously approved new sanctions, saying they were caused by a "heinous U.S. plot to isolate and stifle" North Korea.
It says the U.N. sanctions will never force the country to negotiate over its nuclear program or to give up its nuclear drive and that will take "action of justice" but didn't elaborate.
The Associated Press contributed to this report.