Nigerian civic groups suggest rigging in presidential election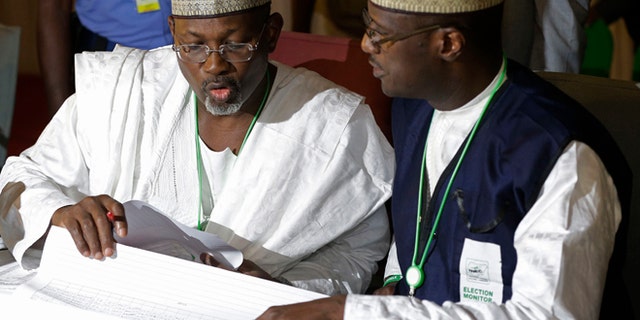 ABUJA, Nigeria – Hundreds of Nigerian civil societies say discrepancies in election tallies suggest the turnout was inflated in defeated President Goodluck Jonathan's southern strongholds.
The differences do not invalidate the victory of former military dictator Muhammadu Buhari but should be investigated before April elections for state governors, the Transition Monitoring Group told a news conference Wednesday.
The group's count has Buhari winning 59.4 percent of votes, instead of the official 53.9 percent, to 39.2 percent for Jonathan, instead of the official 45 percent.
Some 40.6 percent of voters turned out in Nigeria's south-south zone compared to an official 55.9 percent, said the group that includes more than 400 civil society groups and which has monitored every election since years of military dictatorship ended in Nigeria in 1999.
The south-south includes populous, oil-rich states like Rivers, which remains under curfew after opposition protests and the bombing of an electoral commission office following Saturday's bitterly contested election. Two opposition supporters and a soldier were gunned down there on election day.
The Independent National Electoral Commission said it is investigating a slew of complaints about the election in Rivers state, including that officials from Jonathan's government and party substituted polling officials and that official results sheets went missing. Jonathan's campaign has denied any wrongdoing.
The alleged rigging affected five southern states and apparently occurred between the count at polling stations, which their agents monitored, and collation at ward and then local government levels before results were sent for the final tally in Abuja, the capital, Lazarus Apir, the monitoring group's program manager, told The Associated Press.
Observers' reports from 2011 elections indicated votes for Jonathan were inflated by some 2 million in the south, but nothing was done because it did not affect the outcome.
"If they (electoral officials) don't weigh in on this now, someone may be able to repeat that same manipulation during the governorship elections" in April, Lazarus said.