Nicaragua president's VP pick, his wife, helping him coast to victory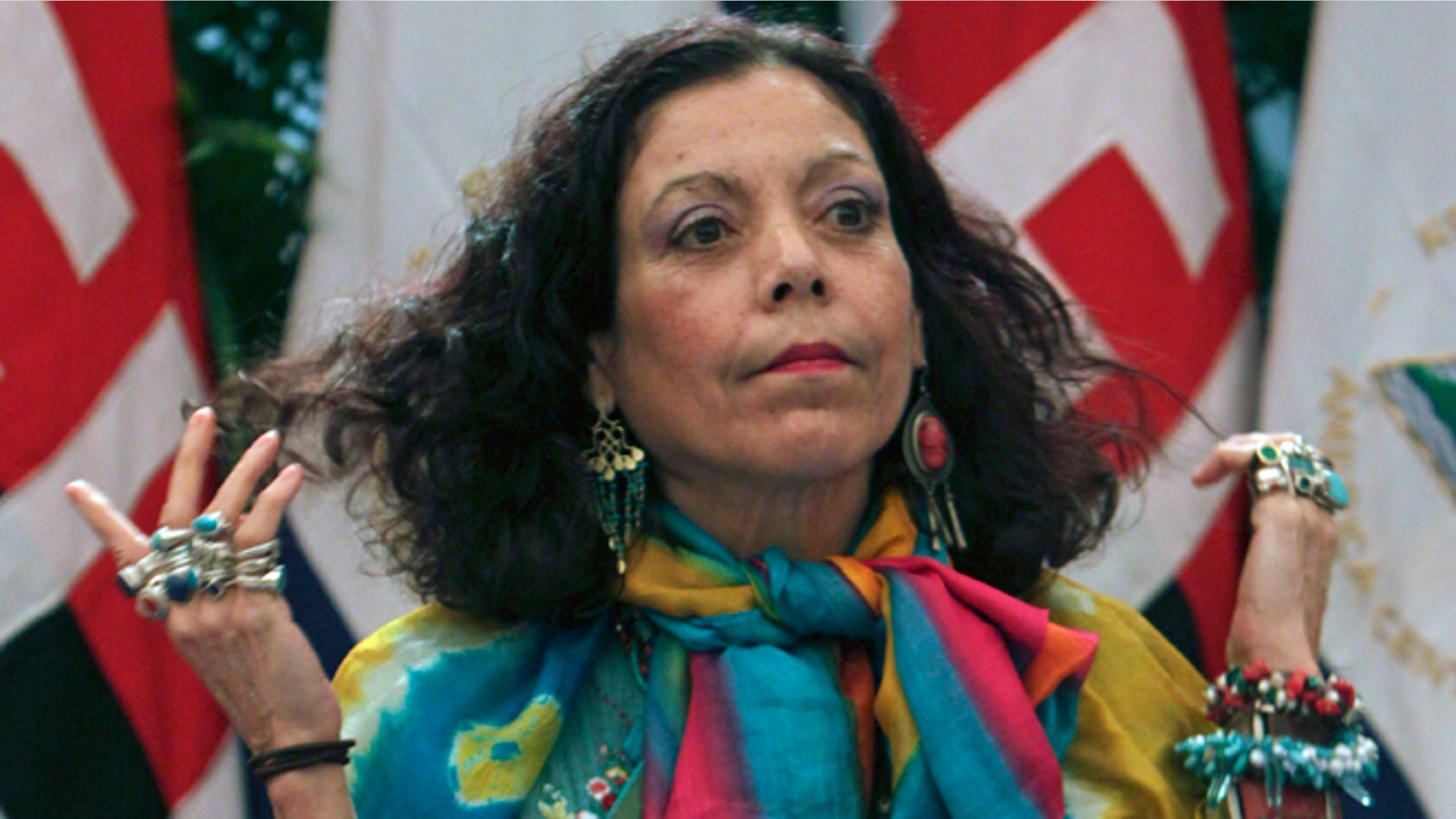 If the polls are right, then Nicaraguan President Daniel Ortega will win his third consecutive term – and fourth overall – as leader of the Central American nation following Sunday's vote.
And joining Ortega once again in office will be his longtime wife, Rosario Murillo. This time, however, Murillo won't only be Nicaragua's first lady, but also the country's vice president.
Murillo, who is known already as the de facto head of Ortega's cabinet, enjoys approval ratings far higher than her husband and is seen as one of the main reasons why Ortega is poised to win the presidency once again.
"Barring a few exception, Nicaraguans love a good power couple," Chris Sabatini, a professor at Columbia University's School of International and Public Affairs, told Fox News Latino. "Murillo has always played a large role in Ortega's government and as his circle continues to get smaller and smaller we're seeing her take on a much larger position."
While Murillo's popularity – along with a weak showing among opposition candidates – has all but guaranteed Ortega's win on Sunday, his wife's name on the ticket is far from a bit of familial nepotism.
The 65-year-old first lady was born in Managua in 1951 and obtained diplomas in English and French while studying in Britain and Switzerland. Her time in Europe helped her become a polyglot - she speaks Spanish, Italian, French and English and is able to read German.
In the 1970s she began publishing poetry, worked at a newspaper and co-founded a cultural group opposed to the dictatorship of Anastasio Somoza. She met Ortega during the Sandinista revolution, and they fell in love while in exile in Costa Rica. They married him in 1979 and have eight children.
Murillo was active during the first Sandinista governments from 1980 to 1990 – serving as a newspaper culture editor, the head of the Sandinista Cultural Workers' Association, a lawmaker and head of the country's Institute of Culture. But she really began to influence the country when Ortega once again took office in 2007.
The first lady has effectively become the face of the Ortega administration – her voice regularly appears on public announcements, she appears on TV daily sends out social media posts about everything from world news to beauty tips. She has also represented her husband overseas on numerous diplomatic and trade missions.
Besides her public role, Murillo has also become adored by Nicaragua's disenfranchised and supporters of the Sandinista government. She holds an approval rating of over 70 percent in the Western Hemisphere's second poorest nation – and much of it is thanks to her advocacy of government-run social programs.
She spearheaded the installation of giant metal "trees of life" sculptures in the capital, a beautification campaign that opponents have criticized as costly but which many residents appreciate, and many Nicaraguans credit her for social programs that have helped keep the ruling Sandinista party's popularity ratings high.
While Murillo winning the vice presidency won't be historic in Latin American – the region has had numerous female leaders and even some former first ladies – it will be a major step forward for Nicaragua, a politically liberal, but socially conservative nation.
"Nicaragua is one of the most restrictive places on earth for women's rights," Sabatini said. "So having a female candidate on the ticket is a major step forward for the country."
The Associated Press contributed to this report.