Naturalized citizens celebrate Fourth of July as Americans: 'Our entrance to freedom'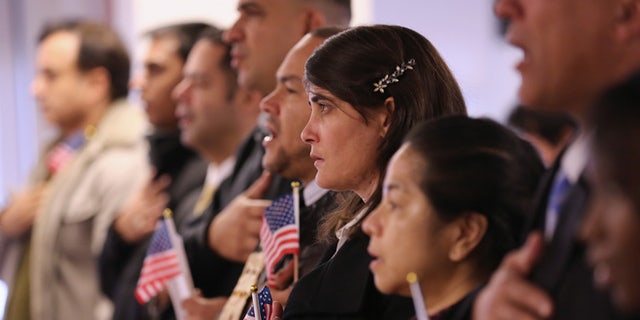 NEWYou can now listen to Fox News articles!
PINEVILLE, La. (AP) – A central Louisiana family celebrated this Fourth of July for the first time as American citizens.
Barbarito Labrada, wife Anilex and their four children came to the United States on March 16, 2010, legally as refugees from Cuba, where Labrada had spent three months in prison for refusing to join the communist cause.
They celebrate that day each year as an end of slavery "like the Israelites coming out of Egypt," Labrada said in Spanish during an interview with The Town Talk.
"Our entrance to freedom," his oldest son, Andy, added in English.
The conversation flipped back to Spanish as his dad chimed back in, "We found in this country what God promised his people — a promised land."
Such is the way of their bilingual household. When they arrived in central Louisiana six years ago Andy, now 21 and in college, was the only one in the family who knew any English, and it wasn't much. He learned quickly by having to translate for his family at the bank or store and then through the Rapides Parish School Board's English as a second language (ESL) program.
All four children went through the ESL program. The youngest, Deny, picked up the language the quickest because he hadn't learned to read and write in Spanish yet. He's 11 now and heading to Tioga Junior High in August. His older brother Dany will be at Tioga High.
Their parents picked it up more quickly on the job. Labrada drives for AEX Express LLC, a medical transportation company. Anilex cleans houses and churches.
Although the family definitely wanted out of Cuba, they didn't intend to come to Pineville. But they consider it God's plan. They flew from Cuba to Mexico to Miami. Their final destination was to be Albany, New York.
When they got in line at the airport for a New York flight, their names weren't on the list, Anilex said. They were booked for a flight to Dallas and then to Alexandria.
They didn't know what to make of that, and they had no way to call family and tell them their plans had changed. Anilex said she asked for five minutes to pray about it. The Labradas decided "God knew why" and they boarded for Dallas.
"Now we give many thanks to God," she said.
They love it here. They've become proud Louisianans and are happy to claim the bayou state as home.
"Somos de aqui" — "We are from here," Anilex said.
As refugees with visas, they began their life in Alexandria with an apartment that was all their own — something they didn't have in Cuba, where they had lived with other family members. Labrada worked and they walked everywhere. Andy helped translate while everyone learned the language.
After a year, they had saved enough to buy a car. After two years, they bought a house in Pineville.
Then after five years in the country on visas, they decided to make the change permanent and apply for citizenship. It was a process of paperwork, but they had help from an immigration attorney.
It became official for the family at three separate ceremonies in New Orleans and Monroe. Andy kicked off the family's naturalization with a swearing-in ceremony in September.
"It was pretty awesome," Andy said. "I never had to do anything in my country. I had no privileges. Here they welcome you. ... It was pretty emotional."
His father and siblings had theirs in December, and Anilex was the last one in January.
The Labradas said they love the American government and its processes, which they see as blessings. They applied and were approved to come into the country as refugees through a government program. They purchased their house through another government program, the Rural Development loan program.
"I'm proud to be an American," said 20-year-old Jany Labradas, a sophomore at LSU. "I'm proud to be here in this country."