NATO: Afghan militant attacks up 11 percent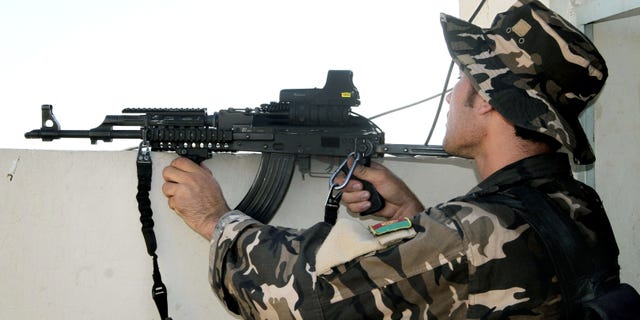 NEWYou can now listen to Fox News articles!
KABUL, Afghanistan – Insurgent attacks in Afghanistan during the past three months were up 11 percent, compared to the same period last year, according to the latest statistics on monthly violence released by the U.S.-led coalition.
The figures, which NATO released on Thursday, also show that the number of attacks in June was the highest for any month since fighting surged in the summer of 2010.
The disturbing uptick comes at a time when foreign troops are leaving and insurgents are trying to prove they remain a potent force. It also supports the theory that the insurgency remains undefeated after more than a decade of war, though coalition officials caution against using attack numbers as a bellwether of how the war is proceeding.
The number of "enemy-initiated attacks" -- such as roadside bombings and gunfire attacks from insurgents -- rose in all three months of the second quarter, compared with the same months in 2011. This follows 11 consecutive months where attacks were below the number reported in the same month the year before.
The coalition offered two possible reasons for the uptick. A shortened poppy harvesting season prompted insurgents to start their spring offensive earlier this year. Also, with more Afghan security forces on the ground and taking the lead in more operations, more of them are getting killed. There also has been more precise reporting of attacks against Afghan soldiers and police, which could also lead to the higher numbers, the coalition said.
In related statistics, 206 Afghan soldiers were killed from March 20 until June 20, according to the Afghan National Army. March 20 is the first day of the Afghan calendar. No comparable numbers could be obtained for 2011, and no current casualty figures from the Afghan National Police were immediately available.
Gen. John Allen, the top commander of U.S. and NATO forces in Afghanistan, has confirmed that Afghan police and army casualties were on the rise. He said the coalition was working with the Afghan security forces -- now 350,000 strong -- to find ways to minimize the deaths of their forces, mostly by roadside bombs known as improvised explosive devices.
"There are things that we're going to seek to do to try and reduce those casualties," Allen said in an interview earlier this week with The Associated Press. "It's everything from emphasizing to their non-commissioned officers and junior officers that they wear their helmets and their body armor ... to `Don't overload your vehicles."'
While the numbers of enemy-initiated attacks is on the rise, the number of U.S. and foreign troops killed in Afghanistan this year is running below last year.
So far this year, 254 NATO service members have been killed in Afghanistan. That compares with 323 killed in the first six months of last year, according to an AP tally.
There have been 39 foreign service members killed so far this month, including one NATO service member who died Friday in an insurgent attack in the east and two NATO service members who died Thursday in a roadside bombing on in southern Afghanistan. The deaths so far this month include at least 32 American service members -- more than have half killed in roadside bombings.
Coalition officials say the number of enemy-initiated attacks is only one metric of the war.
They said Afghan and coalition forces have been able to drive insurgents away from population centers and into more rural, less-populated, areas, forcing the militants to fight for remaining turf outside of the provincial capitals. Most of the fighting this summer is occurring in Naji-Saraj and other districts in Helmand and Kandahar provinces of southern Afghanistan where the Taliban have historically held sway.
"Nari-Saraj is one of those places ... where they (the Taliban) have probably been more or less left to their own devices for a long time," Australian Army Brig. Roger Noble, deputy to the deputy chief of staff for coalition operations, told reporters in a briefing earlier this month in Kabul. "They haven't been disrupted. We're now moving in there with the Afghan national security forces so it's now a fight for that little piece of that turf."
The provincial capital of Kandahar, which is the spiritual birthplace of the Taliban, is stable but more needs to be down to secure districts such as Panjwai and Zhari in Kandahar and Nari-Saraj and Baghran in neighboring Helmand, Allen said.
"We still have work to do there, but the ... numbers of people there are very small, relatively speaking," Allen said. "So the enemy's ability really to influence large parts of the population is much less than it was before."