Mubarak's security boss jailed for 12 years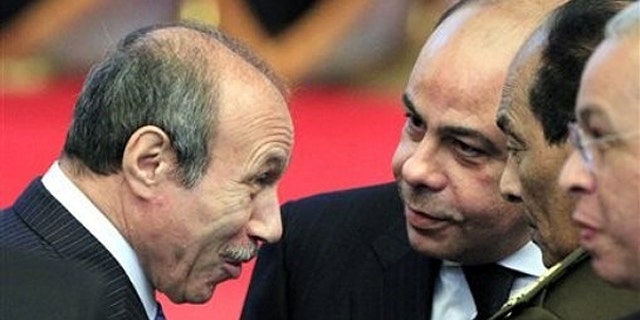 NEWYou can now listen to Fox News articles!
CAIRO – Former President Hosni Mubarak's top security official, who led a much-feared security apparatus blamed for widespread rights abuses, was convicted Thursday of corruption and money laundering and sentenced to 12 years in prison.
The conviction of former Interior Minister Habib el-Adly marked the start of a broad reckoning with the legacy of Mubarak's three-decade authoritarian rule, which was brought to an end on Feb. 11 by a popular uprising.
El-Adly was the first of about two dozen Mubarak-era Cabinet ministers and regime-linked businessmen to be found guilty. The others in custody include a former prime minister, the speakers of parliament's two chambers and Mubarak's two sons, all suspected of corruption.
El-Adly said nothing after hearing the verdict but looked visibly distraught as he was led away by police guards to an armored truck that took him to prison. Several hundred protesters outside the courthouse shouted insults at him as he made his way to the truck, with some demanding that he be executed.
El-Adly served as Mubarak's interior minister for 13 years, a time during which his 500,000-strong security forces were blamed for some of the worst human rights violations Egypt had seen in decades. Anger over police brutality, particularly by members of the notorious state security agency, was a main motive for the uprising. That agency has since been dismantled.
The court also fined el-Adly 15 million Egyptian pounds, or about $2.5 million, and ordered his assets confiscated.
He is facing allegations in a separate case that he had ordered the deadly use of live ammunition against unarmed protesters during the 18-day uprising that toppled Mubarak. About 850 people were killed in the Jan. 25-Feb. 11 uprising, which was led by youth groups.
If convicted on that charge, el-Adly could face the death penalty.
Mubarak himself and one of his sons, one-time heir apparent Gamal, face the same allegations in the killings of protesters.
El-Adly and former Prime Minister Ahmed Nazif also face corruption charges related to awarding a contract for the supply of new car license plates without going through legal procedures.
El-Adly is also blamed for the security vacuum created when police vanished from the streets of Cairo and other cities across the country on Jan. 28 after several days of deadly clashes with protesters. The circumstances of their disappearance have not been fully explained to this day, but the effects of the vacuum it created are still felt.
Armed mobs of criminals and relatives have attempted over the last two days to free suspects from holding cells at four police stations, three of them in Cairo, a bustling city of some 18 million people.
All but one of the four attempts succeeded. In one jailbreak, the mob was able to free nearly 90 detainees from the Sahel police station in northern Cairo on Tuesday. Police have so far re-arrested 28 of the escaped suspects.
Also, authorities are continuing to hunt for thousands of inmates who broke out from several Egyptian jails during the uprising and soon after Mubarak's ouster.
On Tuesday, several hundred people ransacked a Cairo courtroom after a judge ordered the release without bail of 13 police officers charged with killing and wounding protesters during the uprising. The crowd, estimated at about 500 and made up of the victims' relatives and friends, also attempted to assail the judge.
In the northern Sinai town of el-Arish on Thursday, an army force came under attack when they arrived at a seaside compound to investigate a report of gunmen hiding in the area. One soldier was killed and an officer was wounded, a security official and a hospital doctor said, speaking on condition of anonymity because they were not authorized to talk to the media.
___
Associated Press writer Ashraf Sweilam contributed to this report from el-Arish, Egypt.