More than 100 dignitaries call on UN to investigate death of Cuban activist Oswaldo Payá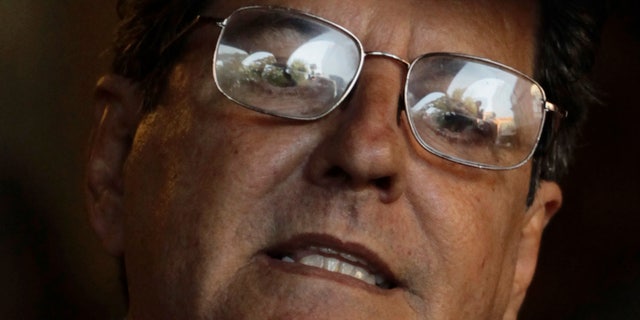 NEWYou can now listen to Fox News articles!
On the first anniversary of the suspicious deathof top Cuban dissident Oswaldo Payá., more than 100 world leaders, organizers, and activists are calling for the U.N. to open an investigation into how he died.
Lobbying group U.N. Watch announced on Monday that 125 leaders from around the world are calling on U.N. Secretary General Ban Ki-moon and Human Rights Commissioner Navi Pillay, as well as all 193 member nations, to support an international investigation into Payá's death in a July 2012 car crash in Granma Province.
The Cuban government's International Press Center released a statement at the time saying that the driver of Payá's car had lost control and hit a tree. But his family and other witnesses maintain that the car was rammed multiple times by another vehicle and deliberately driven off the road.
"Mounting and credible allegations that the Cuban government may have been complicit in the murder of its most prominent critic, a leading figure in the human rights world, cannot go ignored by the international community," reads the letter signed by such world leaders as South African Archbishop Desmond Tutu, European Parliament VP Edward McMillan-Scott, and parliamentary members from numerous countries, including Spain, Sweden and the United Kingdom.
[pullquote]
"The families of the victims, and the people of Cuba, have a right to know the truth, and they have a right to justice. This can only happen with the creation of an international and independent inquiry. We therefore respectfully urge you to support our call," the statement adds.
Officials in the U.S. and elsewhere have previously called for an inquiry, but this is the first time that the issue will be placed on the U.N.'s agenda when the September session begins at the end of the summer.
"We would like to see High Commissioner Pillay call for an inquiry," Hillel Neuer, Executive Director of U.N. Watch and one of the signers of the appeal, said to FoxNews.com. "If they say it was an accident, then Cuba should have no objection."
Neuer added that Payá's daughter, Rosa María Payá, spoke in front of the U.N. in March and was interrupted by the Cuban delegate and others in an apparent attempt to quell her plea for an international investigation.
Payá was a major political activist in Cuba who opposed the one-party rule of the Communist Party, which led to his founding the Christian Liberation Movement. He gained international attention in 1998 for starting the Varela Project, a non-violent movement for democratic reforms in Cuba. The projects initiative was to propose laws advocating such things as freedom of association and speech, free elections, and freedom to start private businesses.
Payá and the Varela Project had garnered at least 25,000 signatures in a petition but the Cuban National Assembly's Constitution and Legal Affairs Committee suspended consideration and held a vote for a counter initiative.
"His movement was the first to make a popular appeal in respecting the Cuban constitution as it stands," Cynthia Romero, a senior officer at the human rights group Freedom House, whose executive director also signed the appeal, told FoxNews.com. "It was also a movement that mobilized tens of thousands of people within the island.
"It's a testament to his legacy to have so many come out in support of an investigation."
Romero added that while the international community can launch an inquiry, there is not much they can do to force Cuba to comply with any findings.
"As far as they [Cuba] are concerned, the case is closed."