Mexico's Peña Nieto accepts resignation of Treasury secretary who arranged Trump visit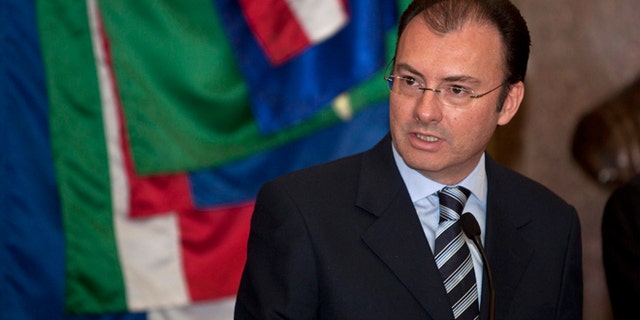 Mexican President Enrique Peña Nieto says he accepted the resignation of his Treasury secretary because the official had suffered a big blow to his reputation due to Donald Trump's visit to the country.
Peña Nieto said Thursday in an interview with Teleformula that it was his decision to meet with the Republican presidential candidate, but he acknowledged that then-Treasury Secretary Luis Videgaray played an important role.
He said that "without doubt" Videgaray was involved in arranging the Aug. 31 visit and "this blow led me to make the decision and accept his resignation."
Peña Nieto was widely criticized in Mexico for not confronting Trump more directly on his disparaging remarks about Mexico and migrants, or on the candidate's promise to build a border wall and make Mexico pay for it.
"You do not understand [Peña Nieto], the presence of [Trump] in Mexico invited by you is behavior unworthy of the Mexican Government," tweeted Mexican Sen. Miguel Barbosa of the leftist Democratic Revolutionary Party (PRD).
Besides the criticism from politicians, many other Mexicans expressed their angered at Peña Nieto.
"I really don't understand how our president could invite this man," newspaper salesman Ángel Díaz, 53, told Fox News Latino. "The president should be answering the insults and the lack respect that man has shown us, but instead he's being friendly. Trump wants to build a wall, almost like the Berlin wall. Nothing good can come of this visit."
Peña Nieto also has been ridiculed for not confronting him more directly about comments calling migrants from Mexico criminals, drug-runners and "rapists," and Trump's vows to build a border wall and force Mexico to pay for it.
The wall proposal has been criticized widely and fiercely in Mexico.
Many observers – both in and out of Mexico – said that Peña Nieto's invitation for Trump to visit was a ploy by a politician with abysmal approval ratings at home. A national newspaper poll this month put Peña Nieto's approval rating at 23 percent, its lowest level since he took office in 2012 –– only slightly better than Trump's 4 percent favorability rating among Mexicans.
"By meeting with Mr. Trump just hours before he unveils his latest immigration positions, Peña Nieto is allowing himself to become a pawn in this campaign," said Jason Marczak, Director, Latin America Economic Growth Initiative.
The Associated Press contributed to this report.
Like us on Facebook
Follow us on Twitter & Instagram