Mexico identifies possible successors of the Zetas, Knights Templar leaders recently captured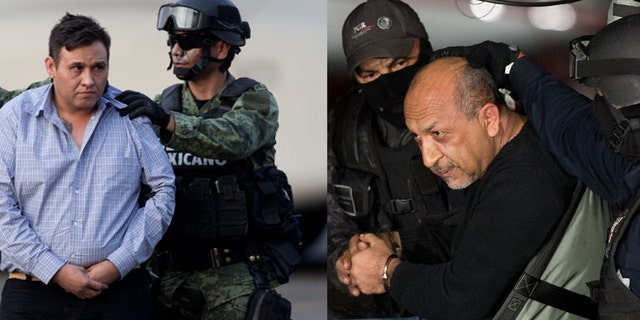 NEWYou can now listen to Fox News articles!
Four men nicknamed El Mencho, El Gallo, El Contador and El Kelin are best positioned to become the new leaders of The Knights Templar and Los Zetas drug cartels, according to the Mexican government.
Days after capturing two of Mexico's most wanted drug lords, the government announced possible names of people set to succeed Servando "La Tuta" Gomez, leader of The Knights Templar, and Omar Trevino Morales, leader of the of the Los Zetas cartel.
Both men were captured by Mexican military and federal forces within a week.
One of the men likely to take control of The Knights Templar, according to El Universal newspaper in Mexico, is Homero Gonzalez Rodriguez, known as El Gallo. Another possible successor is Nemesio Oseguera, known as El Mencho, the current leader of the CJNG cartel.
National Security officials in Mexico say they believe there is a real possibility La Tuta's arrest will cause a divide in The Knights Templar making it harder for officials to stop them.
It's a problem the Mexican government has been confronting after about a decade of targeting cartel leaders – large transnational organized crime syndicates have now splintered into more than 80 small drug trafficking gangs.
Things are reportedly a bit more up-in-the-air for Los Zetas, according to El Universal, because the line of succession is not as clear.
Mexiley Barahona Nadales, known as El Contador, is reportedly very familiar with the way Los Zetas operates and could be a possible successor to Trevino Morales. The other candidate is Rogelio Gonzalez, known as El Kelin.
Like us on Facebook
Follow us on Twitter & Instagram