Most wanted Los Zetas drug lord captured in Mexico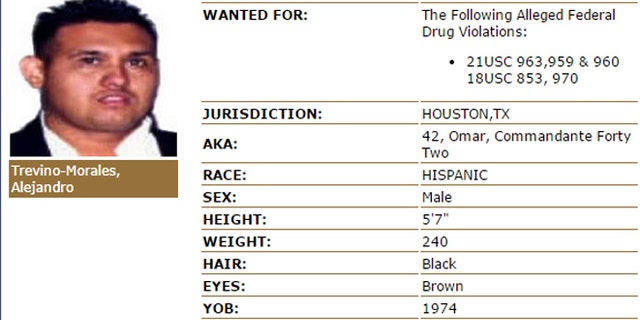 The head of the Los Zetas drug cartel was captured in the state of Nuevo Leon, Mexico on Wednesday, according to a report from El Universal newspaper.
Alejandro Trevino-Morales was arrested in Monterrey and was not only one of Mexico's most wanted men he was also on the U.S. Drug Enforcement Agency's Most Wanted List. The U.S. State Department has a $5 million bounty on Trevino-Morales for any information that led to his arrest.
The Mexican army and federal police forces captured Trevino-Morales at approximately 4 a.m. local time, and he was immediately transferred to a military facility where officials worked to confirm his identity, according to Excelsior newspaper.
The drug lord, known as "42," "Omar," or "Commandante Forty Two," was wanted for at least five federal drug violations including possession and manufacturing, criminal forfeiture, and drug trafficking. In July of 2012, the White House recognized Los Zetas as one of four international crime groups that threaten U.S. national security.
Los Zetas was formed in the late 1990s and was formerly led by Trevino-Morales' brother Miguel Trevino Morales. It is believed "Omar" took power after Miguel was arrested in Nuevo Leon in July 2013.
The Los Zetas criminal syndicate controls the most territory in Mexico stretching up and down the entire east coast of the country up through the U.S. Mexican border in Nuevo Laredo.
The criminal syndicate is known for its brutality. The group was suspected of igniting a fire at a casino in Monterrey, killing 52 Mexican civilians in 2011. The group is also suspected of leaving 49 mutilated bodies in a northern Mexico town square.
Like us on Facebook
Follow us on Twitter & Instagram