Massive lines outside Canada marijuana shops after country legalizes weed
Canada became the second country in the world to legalize recreational marijuana with stores opening at midnight Wednesday to serve queues of keen pot smokers.
Canadians should now in theory be able to buy cannabis and cannabis oil from licensed producers at various retail locations.
However, it remains illegal to possess more than 30 grams of cannabis in public, grow more than four plants per household or buy from an unlicensed dealer.
CLICK HERE FOR MORE PICTURES FROM THE SUN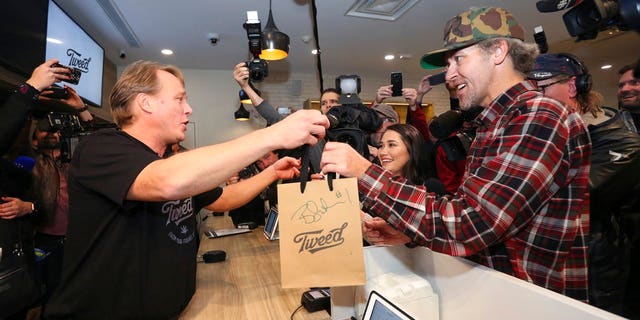 Stores in the country's easternmost province, Newfoundland, opened at the stroke of midnight to serve queues of customers hoping to be a part of the nation's historic day.
In the city of St. John's, hundreds of customers were lined up around the block at a store on the main commercial drag in the provincial capital by the time the clock struck midnight.
WESTJET BANS EMPLOYEES FROM SMOKING MARIJUANA AHEAD OF CANADA'S NATIONAL LEGALIZATION
A festive atmosphere broke out, with some customers lighting up on the sidewalk and motorists honking their horns in support as they drove by the crowd.
Pot smoker Ian Power said: "I am going to frame it and hang it on my wall. I'm not even going to smoke it. I'm just going to save it forever."
The 46-year-old added: "Prohibition has ended right now. We just made history.
CANADIANS COULD BE BANNED FROM THE US FOREVER IF THEY SMOKE LEGAL POT
"I can't believe we did it. All the years of activism paid off. Cannabis is legal in Canada and everyone should come to Canada and enjoy our cannabis."
This story originally appeared in The Sun