Canadians could be banned from the US forever if they smoke legal pot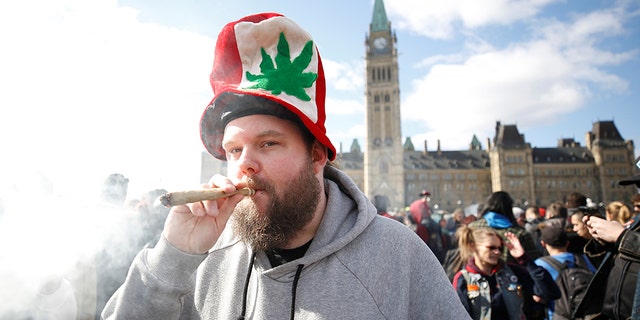 MONTREAL – In less than a month, Canada's ten provinces and three territories will join nine American states and Washington D.C. that have fully legalized the recreational consumption of marijuana.
But even after October 17th, a Canadian citizen who drives from Vancouver to Seattle may be asked by a border agent if they have smoked pot before, and if they say yes, they could get banned from entry to the U.S. for life, even though pot is legal in Washington state.
Marijuana remains illegal under U.S. federal law, and U.S. Customs and Border Protection (CBP) has long sought to keep those who consume the substance out of the country.
CANADA TO LEGALIZE MARIJUANA AFTER LANDMARK SENATE VOTE
Agents screening foreign nationals attempting to enter the U.S. are therefore allowed to deem a foreigner inadmissible to the United States if they admit to having consumed marijuana in the past. Asking people about their drug use is entirely at the discretion of a border agent, and if someone lies or is unwilling to answer, agents are allowed to search a person's belongings for evidence of past drug use, including their cell phone.
The assumption by the Canadian legal community had been that this border policy would come to an end following legalization. However, the U.S. government confirmed earlier this month that the policy will continue to apply to Canadians crossing into the U.S. after October 17th, and CBP has said that changes in a foreign country's laws won't impact their practices at home.
"This is U.S. law, and under U.S. federal law, marijuana remains illegal", a spokesperson from CBP told Fox News.
MARIJUANA STOCK BACKED BY PETER THIEL SURGES ON US IMPORT APPROVAL
Canada's ministries of Justice and Public Safety, which are jointly overseeing the process of marijuana legalization, have said they are continuing to work closely with the U.S. government to ensure that there is as little disruption for Canadians travelling to the U.S. as possible once marijuana is legalized next month.
CANADA STRUGGLING WITH ILLEGAL BORDER 'CRISIS' OF ITS OWN AHEAD OF CRUCIAL ELECTIONS
However, a spokesperson from Public Safety Canada reached by Fox News did not express optimism that the current situation at the border would change significantly soon.
"The United States has the sovereign jurisdiction to deal with people crossing the border into their country, just as we have the same powers for those entering into Canada," the spokesperson said.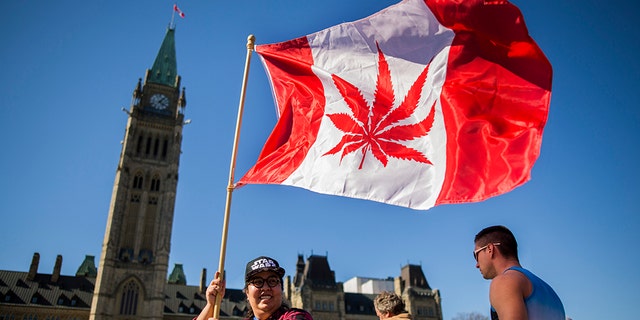 However, they emphasized that "despite one-in-eight Canadians using cannabis today, 400,000 people move between our two countries every day almost entirely without incident."
The Canadian government has long urged its citizens not to lie if a U.S. border agent asks about their pot use.
If an agent is able to find evidence from someone who claims they have not smoked pot before that indicates otherwise, they can still be banned from entry to the U.S. anyway — in this case, for lying to a customs officer.
Even Canadian Prime Minister Justin Trudeau, who has long been open about his past use of marijuana, said this month that he would never lie to a U.S. border agent if he was asked if he had used cannabis.
Concerns have also been raised about how this policy will impact employees of marijuana stores in Canada, which will — in many provinces — be run by the government. Even if someone who works for the stores doesn't consume marijuana themselves, a U.S. customs officer could find legal grounds to ban them from entry to America.
At least one American lawyer has argued that this could even apply to the premier - the Canadian equivalent of a governor - of a province, because of government-owned dispensaries in places including British Columbia and Québec.
CBP confirmed to Fox News that anyone who works in the marijuana industry could be subject to a ban from entry to the U.S., whether they work for a government-run pot dispensary or one in the private sector.
"Working in or facilitating the proliferation of the marijuana industry in Canada, or U.S. states where it is deemed legal, may affect a foreign national's admissibility to the United States", a spokesperson said. The spokesperson did not directly respond when asked by Fox News if elected officials in governments that run their own dispensary chains would be exempt from this policy.
In an interview with a Vancouver radio station last month, lawyer Len Saunders called that potential detail "the worst-case scenario" for Canadian provincial governments.
Despite the ban on pot smokers and pot sellers, the U.S. government seems to have less of a problem with actual pot entering the U.S. from Canada.
Weed imports from British Columbia-based Tilray Inc. received the okay from the D.E.A. several days ago, for use in a study on medical cannabis being conducted by University of California San Diego.
Canadians who end up getting hit with a lifetime ban at the border can apply for a waiver from CBP that will allow them to come to America. Once they apply for it — at a cost of over $500, there's no guarantee that waiver will be approved.
Meanwhile, American expatriates living in Canada, as well as American tourists returning home from a trip to Canada, won't have to worry about being locked out of their home country if they smoked legal pot north of the border: CBP's policy only applies to foreign nationals.