Maldivian elections chief reveals death threats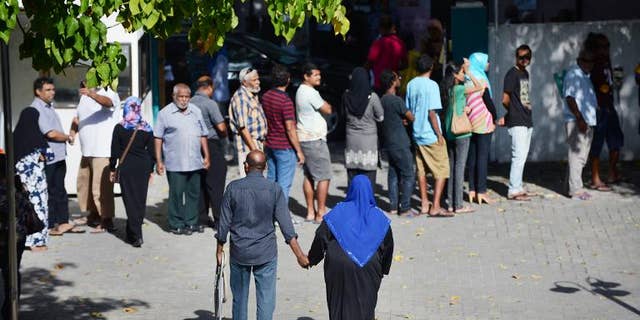 NEWYou can now listen to Fox News articles!
Colombo (AFP) – The elections chief of the Maldives said on Monday he had received death threats amid political turmoil on the archipelago following a Supreme Court decision to suspend presidential polls at the weekend.
Election commissioner Fuwad Thowfeek had called for the second round of voting to go ahead on Saturday in defiance of the court order, but was forced to back down when security forces were ordered to stop balloting.
"I have told police about the death threats I have been receiving since Saturday," Thowfeek told AFP by telephone. "These calls are from local numbers. The threats are directed against me as well as my staff and their families."
Saturday's run-off election would have been between ex-president Mohamed Nasheed and Abdulla Yameen, a half-brother of former autocrat Maumoon Abdul Gayoom who ruled with an iron first for three decades before the first free elections in 2008.
Nasheed won the first round of the presidential election on September 7 with 45.45 percent. He sees the court decision as a conspiracy to prevent him taking power again, a year and a half after he was ousted following a police mutiny.
The Supreme Court suspended voting while it looks into complaints of electoral fraud in the first round by the third-placed candidate Gasim Ibrahim, one of the richest men in the nation of 350,000 Sunni Muslims.
The United Nations, the United States, Britain, India and the European Union have asked Maldivian authorities to complete the presidential polls without delay after observers judged the first round to be fair.