Lights Out: Hamas TV Station Loses All Broadcasts in Europe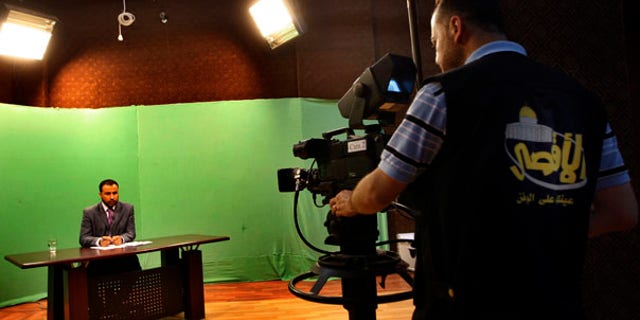 A Gaza-based television station, accused of inciting hatred of Jews and Israel, had its broadcasts to Europe shut off, Eutelsat satellite firm said on Friday.
Paris-based Eutelsat said its client Noorsat, the operator which handles the broadcasting of Al-Aqsa TV to parts of Europe and throughout the Middle East, cut the satellite signal on Thursday.
Reacting to the move, Al-Aqsa director Hazem al-Charawi said: "The legal battle has just started and we are determined to pursue it."
He told a news conference in Gaza City late on Thursday that the shutdown of its broadcasts to Europe amounted to "another layer of the Gaza blockade imposed by the Zionist lobby with France's help."
Charawi also pledged to expand broadcasts in Latin America by striking deals with Arab satellites that beam to that part of the world "in order to make the (Israeli) occupier and his crimes known" to the world.
Al-Aqsa TV, which is run by the Islamist movement Hamas which controls the Gaza Strip, went off the air in Europe at 1800 GMT on Thursday.
Before the signal on Eutelsat was turned off, Al-Aqsa TV broadcast a message to its European viewers denouncing the "unjust decision" and inviting them to switch to Nilesat and Arabsat satellite operators.
Programs -- accompanied by the caption "a new beginning" -- were still being broadcast on the other frequencies to the Middle East region on Friday.
Earlier this month the French government ordered Eutelsat to take Al-Aqsa TV off the air after receiving a complaint from the European Commission that it violated rules on incitement.
France's CSA broadcasting authority in 2008 and 2009 warned Eutelsat about breaching French laws that ban incitement to hatred, but these warnings did not lead to any change in the content broadcast via its satellites.
Al-Aqsa TV shows music videos and cartoons glorifying the killing of Israeli soldiers, as well as a children's show with a Mickey Mouse-like character that encourages martyrdom and armed struggle leading to the destruction of Israel.
Israel repeatedly targeted the channel during its devastating Gaza offensive launched in late 2008 to halt Hamas rocket attacks. The offensive destroyed all of the channel's studios but failed to take it off the air.
Hamas, which won Palestinian elections in 2006 and violently seized power in Gaza the following year, is sworn to the destruction of Israel and has launched scores of deadly attacks since it was founded in 1987.