Libyan Forces Try to Stop Rebel Advance Toward Capital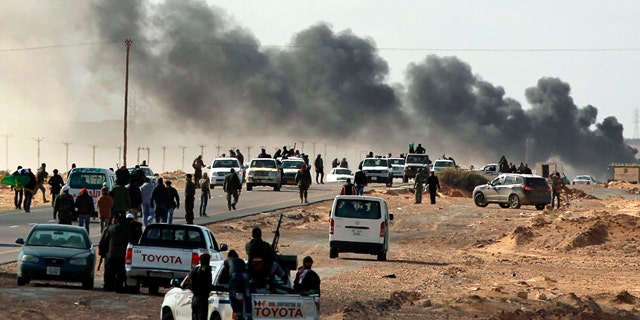 BIN JAWWAD, Libya – Helicopter gunships strafed opposition fighters as forces loyal to Moammar Qadhafi pounded them with artillery and rockets, dramatically escalating a counteroffensive against rebels advancing on the capital.
After securing control of two important oil ports (at Brega and Ras Lanouf), rebels reached a town (Bin Jawwad) about 110 miles east of Qadhafi's hometown last night before pulling back. Pro-Qadhafi forces moved into the town overnight and surprised the rebels at daybreak, triggering battles that raged throughout the day.
The rebel-controlled city of Misrata, 120 miles east of Tripoli, has also seen heavy fighting. A doctor there tells The Associated Press that 20 people have been killed and 100 wounded. Residents say pro-Qadhafi troops punched into the city with mortars and tanks but were pushed out five hours later by rebel forces.
Hundreds and perhaps thousands have died since Libya's uprising began in mid-February, though tight media restrictions make it nearly impossible to get an accurate tally.