Kim Jong Ale, Rocket man T-shirts and Trump-themed haircuts: Vietnam embraces landmark summit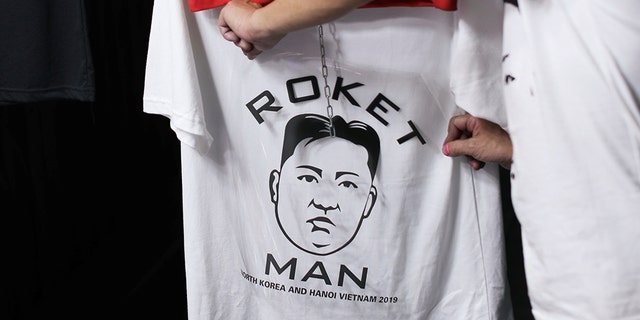 As President Trump's second summit with Kim Jong Un quickly approaches, the Vietnamese city where it is set to be held is bustling with new business - including the sale of T-shirts with the North Korean dictator's face on them, Trump and Kim-themed haircuts and drinks like the "Kim Jong Ale."
Designer Truong Thanh Duc says he's already sold about 300 of his novelty T-shirts, which are emblazoned with Kim's face alongside the phrase "Roket Man," the nickname Trump coined for the despot. Another T-shirt pictures Trump and Kim together below the word "Peace," according to Reuters.
Duc's T-shirt business isn't the only one to pop up in light of the forthcoming summit. One barber at the the Tuan Duong Beauty Academy in Hanoi is reportedly offering free haircuts for residents looking to clean up before the historic meeting, as long as they are in the style of Trump or Jong Un's haircut. Some patrons have even taken to dyeing their hair orange to match the U.S. President.
VIETNAMESE BARBER HANDING OUT FREE TRUMP-KIM HAIRCUTS TO MARK SECOND SUMMIT
Additionally, a bar in Hanoi has begun offering summit-themed drinks, such as the "Peace Negrotiations" and the "Kim Jong Ale."
T-shirt designer Duc, however, has philanthropic plans for his profits from the T-shirts. He says he'll buy baguettes for the poor people of Hanoi, which are a popular bread in the formerly French-colonized city.
TRUMP, KIM JONG UN'S SUMMIT IN VIETNAM: WHAT TO EXPECT FROM THE LEADERS' SECOND MEETING
Duc says he chose to capitalize on the summit, which is set to take place next week, because of his respect for the heads of American and North Korea.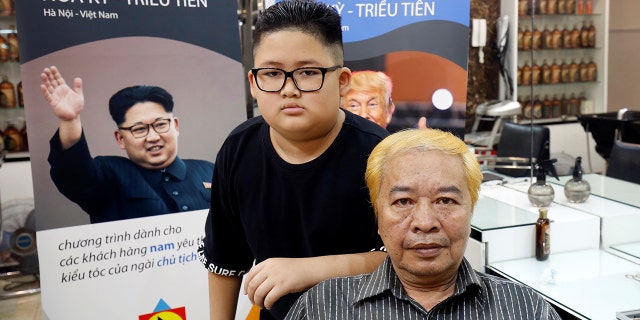 "I really admire these two leaders," he said. "One is the leader of the most technologically advanced country in the world and the other leader, although a bit extreme, has realised his people are too poor and he wants his nation to develop."
NORTH KOREA KEEPS AMASSING NUCLEAR MATERIAL DESPITE PROMISING TO DENUCLEARIZE, REPORT FINDS
"There's no need to talk about Trump as he's already a great man. Everybody knows that," he continued. "But we should always encourage Kim Jong Un to give up his dictatorship for his people".
He added that although Kim's infamous legacy has been a controversial one, he believes he's changed his ways in the interest of diplomacy.
CLICK HERE TO GET THE FOX NEWS APP
"Kim Jong Un is a dictator but now he has changed," said Duc. "He has to give up that status to shake hands with the developed world".