Kenya seizes three tonnes of ivory at port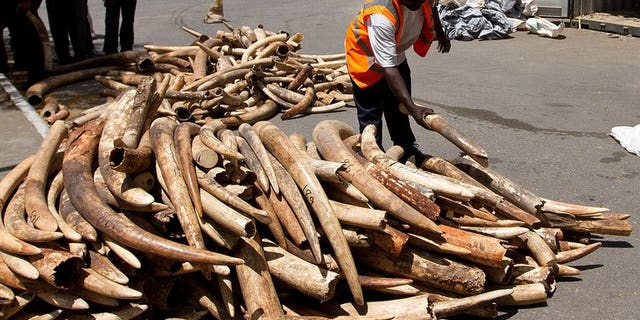 NAIROBI (AFP) – Kenyan customs officers have confiscated more than three tonnes of elephant ivory destined for Malaysia, they said Tuesday, one of the largest in a series of such seizures.
Kenya Wildlife Service spokesman Paul Mbugua said the 3,287 kilogrammes (7,246 pounds) of ivory were hidden in a shipment of peanuts in the port city of Mombasa, a regional hub.
Some tusks weighed almost 60 kilogrammes (132 pounds), originating from so-called "big elephants", said customs official Fatuma Yussuf.
"We do not know where the ivory originated from, but preliminary investigations show they might have been packaged locally," Mbugua added.
The shipment was discovered Monday, but full details were released on Tuesday, with officers continuing to investigate other containers.
It follows a shipment seized in Mombasa earlier this month -- also destined for Malaysia -- hidden underneath dried fish, weighing almost one and a half tonnes.
Earlier this month US President Barack Obama signed an executive order launching a $10 million (7.7 million euro) bid to cut wildlife trafficking in Africa, with $3 million in assistance earmarked for Kenya.
However, that assistance is dwarfed by the potential profits from large scale shipments such as those that have recently been seized.
In January, KWS officials said that 3.8 tonnes of ivory were seized, also at Mombasa, apparently on transit from Tanzania to Indonesia.
Ivory trade is banned under the Convention on International Trade in Endangered Species of Wild Fauna and Flora (CITES).
Poaching has risen sharply in Africa in recent years. Besides targeting rhinos, whole herds of elephants have been massacred for their ivory.
The illegal ivory trade, estimated to be worth between $7 billion and $10 billion a year, is mostly fuelled by demand in Asia and the Middle East, where elephant tusks and rhinoceros horns are used in traditional medicine and to make ornaments.