Karzai Issues Open Invitation to Meet With Insurgents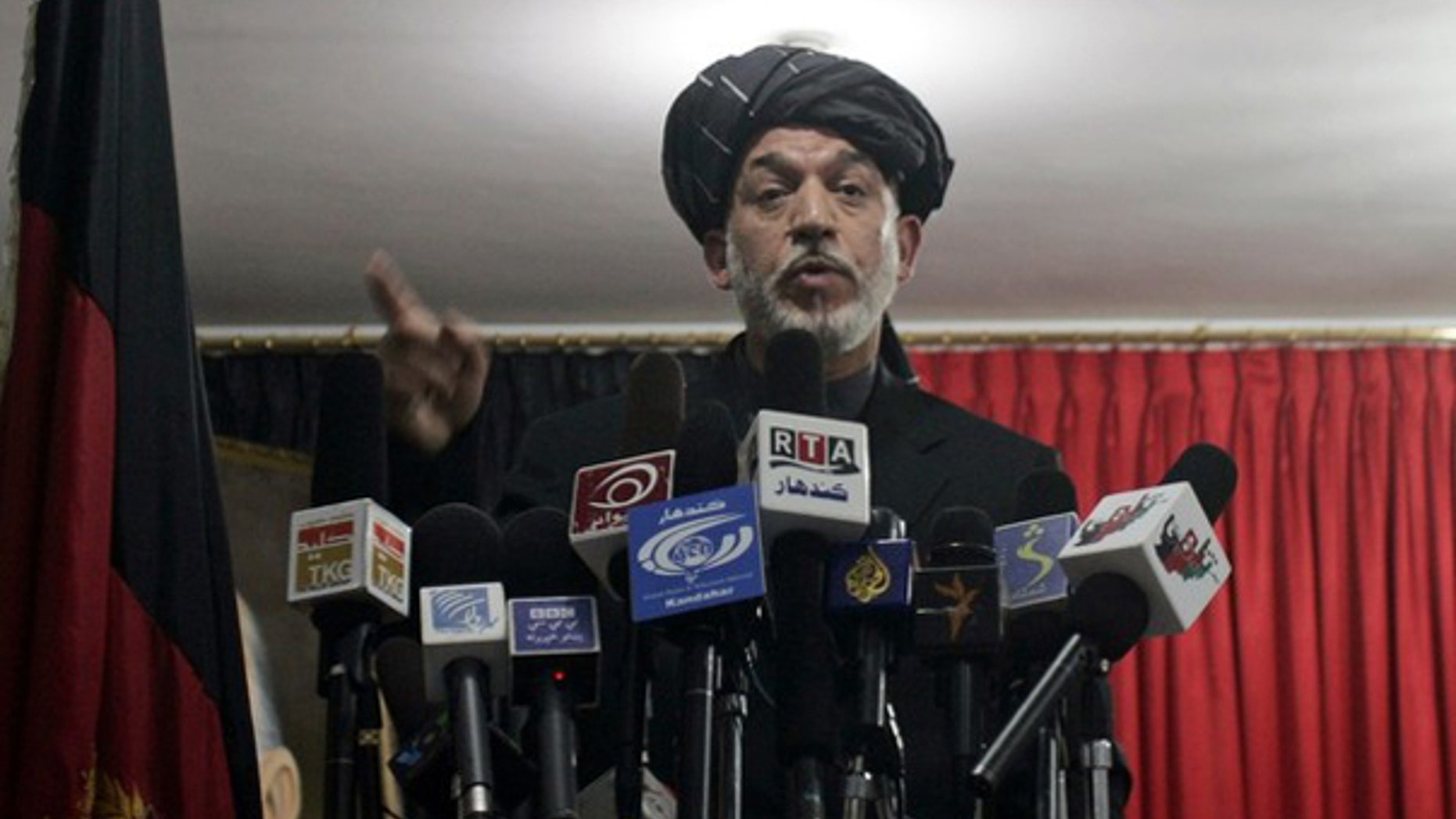 Afghan President Hamid Karzai urged Taliban insurgents on Sunday to lay down their arms and air their grievances while visiting a violent northern province, adding that foreign forces would not leave the country as long as fighting continued.
Addressing a gathering in Kunduz province, Karzai repeated his standing invitation to meet with any insurgent who renounces violence and terrorism and embraces the Afghan Constitution. Karzai's outreach has so far done little to stem the violence, while sometimes confusing efforts to decisively defeat opponents on the battlefield.
"Come, no one will stop you. Come and have your say, not by the gun," Karzai said.
"You say that 'foreigners are here.' As long as you fight, they won't leave," he said, referring to what the insurgents say is their main goal of driving foreign forces from the country.
Karzai's visit followed his accusations of foreign interference that put a strain on ties with his main backer, the United States, although both sides have since indicated they wish to put the tensions behind them. While referring vaguely to "a little foreign interference," Karzai offered none of the bluster of recent days, in which he reportedly had threatened to join the Taliban if the West didn't stop pressuring him to fight harder against graft, cronyism and electoral fraud.
The latest comments come after last week's blustery comments, when Karzai cast doubt over NATO's planned summer offensive against the Taliban in the southern province of Kandahar, The Sunday Times reported.
After being confronted by elders in Kandahar who said the campaign would bring strife, not stability to his home province, Karzai reportedly threatened to delay or even cancel the operation, even as 10,000 America troops pour into the country for what is expected to be one of the biggest fights of the nine-year war.
Visiting his home province last week to rally support for the offensive, the president was instead confronted by a barrage of complaints about corruption and misrule. At a meeting of 1,500 tribal leaders and elders, he appeared to offer them a veto over military action. "Are you happy or unhappy for the operation to be carried out?" he asked, according to the Times.
The elders shouted back: "We are not happy."
"Then until the time you say you are happy, the operation will not happen," Karzai was quoted as saying by the Sunday Times.
NATO commander Gen. Stanley McChrystal, who was sitting behind the Afghan leader, looked distinctly apprehensive. The remarks came amid U.S. anger and bewilderment with Karzai, who has already accused the United States of rigging last year's presidential elections.
In the country's south, meanwhile, a bus carrying Afghans working for a U.S.-supported de-mining group was struck by a roadside bomb in Kandahar province, killing five workers and wounding 13 others.
On Sunday, NATO said an Afghan soldier shot and lightly wounded a Polish soldier with whom he had been arguing. The Afghan soldier fled after the shooting and was being sought by Afghan and international forces.
NATO also reported a member of the international security force was killed by a roadside bomb in southern Afghanistan. No other details were given in keeping with standard procedure.
Underscoring insecurity in the area, three rockets were fired toward Kunduz ahead of Karzai's arrival Sunday morning, but landed harmlessly in farm fields, provincial spokesman Ahmad Sami Yawar said. The president later pulled out of a visit to German troops stationed in the area due in part to what were described as safety concerns.
Security has been deteriorating in Kunduz for the past two years, particularly since the opening early last year of a route through the province for supplies traveling from Europe through Russia and down to the former Soviet republics of Central Asia.
Taliban fighters last week killed three German troops based in the area, and Afghanistan's Ministry of Defense reported Sunday that three Afghan soldiers were killed and three others wounded Saturday in the province.
NATO has mainly been concerned with security in the country's south, having just completed an assault on the Taliban in Helmand province and gearing up for a push into the group's spiritual heartland of Kandahar.
However, Kunduz Gov. Mohammad Omar told reporters the situation in his province was even more dire and required a monthlong military operation to prevent the Taliban and its Al Qaeda allies from taking over. Omar said a Taliban commander in the neighboring province of Takhar vowed to conquer Kunduz within the year.
In the latest blow to crucial de-mining efforts in Afghanistan, the bus belonging to the Demining Agency for Afghanistan was struck early Sunday in Kandahar province, according to Mohammed Ibrahim, chief of medicine at Kandahar Hospital.
It wasn't clear if the blast was random or specifically targeted the de-mining agency, which receives more than half its funding from the U.S. State Department, according to its Web site.
The group clears mines across southern Afghanistan that are a legacy of 25 years of near-continuous warfare and continue to kill scores of Afghans each year.
The unidentified Pole shot Saturday night at a joint command center in the eastern province of Ghazni was transferred to a medical facility for treatment, according to a NATO spokesman in Kabul, speaking on routine condition of anonymity.
The Ghazni base is headquarters of the 2,600 Polish troops stationed in Afghanistan as part of the NATO effort to root out the Taliban and extend the central government's remit into rural areas.
While rare, Afghan troop attacks on international forces risk damaging the trust between Afghan police and soldiers who work side-by-side with their foreign mentors on training and combat missions. An Afghan soldier killed a U.S. service member and wounded two Italian soldiers in December in the western province of Badghis, about one month after a rogue policeman in Helmand province shot and killed five British soldiers.
Afghan Defense Ministry spokesman Mohammad Zahir Azimi said the shooting resulted from an argument, but details weren't immediately known. He said both had pulled weapons and fired. The whereabouts of the Afghan soldier weren't known, Azimi said.
"It seems to have been a fight and the soldier was operating on his own," Azimi said.
Zabiullah Mujahid, a spokesman for the Taliban, said the Afghan soldier had escaped, killing four Afghan soldiers in the process, and was now with the insurgents. The claim could not be verified, and the Taliban has a history of making false and exaggerated claims.
Also Sunday, Interior Ministry spokesman Zemari Bashary said investigators were questioning three Italian medical workers detained the day before as part of an investigation into an alleged plot to kill the governor of Helmand province. They were among nine people held after suicide bomb vests, hand grenades, pistols and explosives were discovered in a hospital storeroom in Helmand's capital, Lashkar Gah.
Emergency, the Milan-based organization that runs the hospital, has denied involvement in any plot.
Bashary said the investigation would proceed cautiously in recognition of the work done by Emergency, which has provided health services in Afghanistan since 1999.
Emergency has had a tense relationship with local authorities in violence-wracked Helmand, due in part to its policy of treating all patients, including those who may be Taliban.
Helmand's governor, Gulab Mangul, alleged Saturday that Taliban insurgents had paid hospital authorities $500,000 to kill him, but Bashary said the ministry could not confirm that charge.
The Associated Press contributed to this report.