Justice delayed for Peru victims of forced sterilization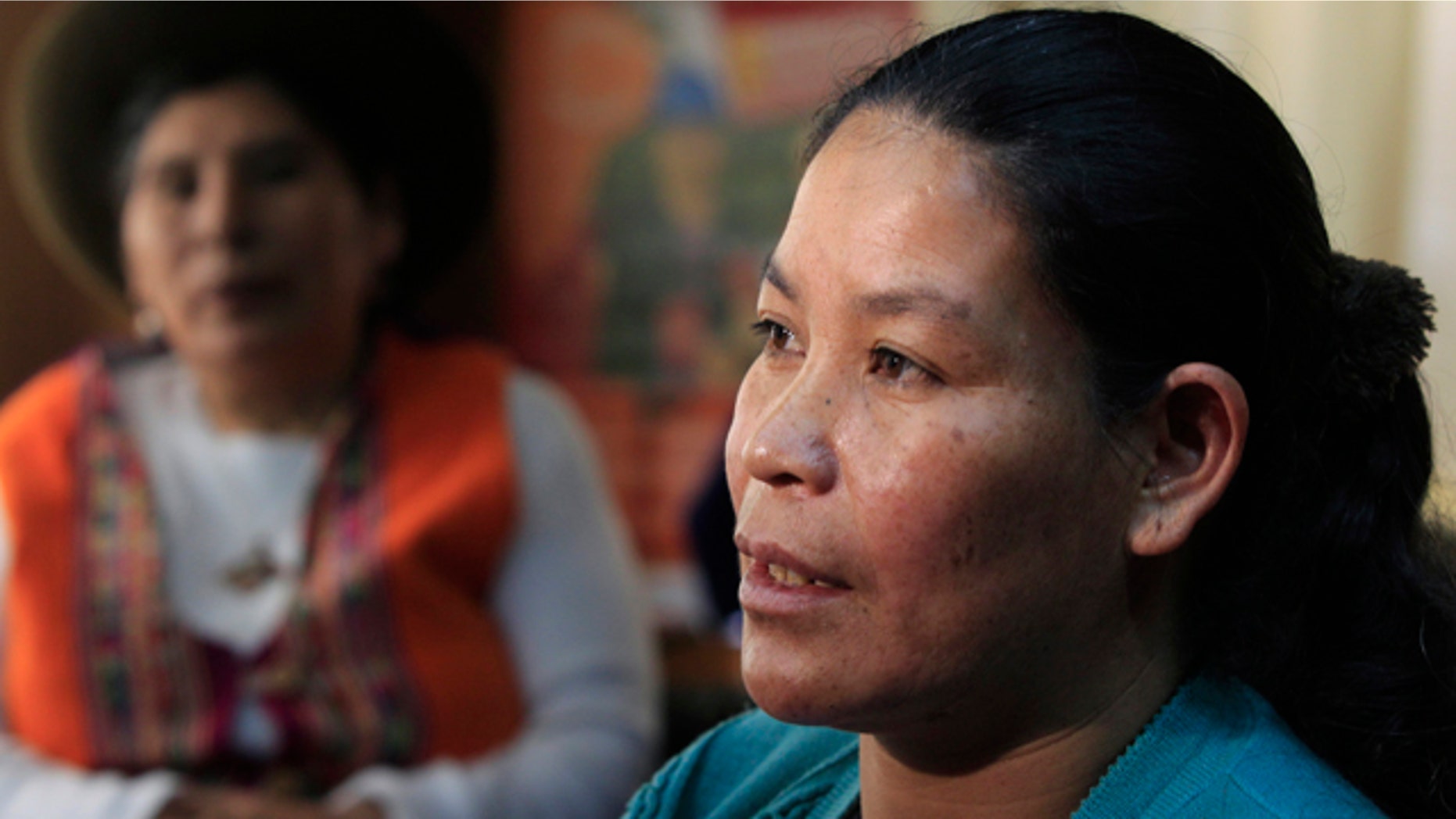 LIMA, Peru  -- It was 1996 when Micaela Flores and 15 other women from Peru's highlands accepted an ambulance ride to a Cuzco clinic, lured by the offer of a free medical checkup.
But when they arrived, the clinic's doors were locked behind them.
"'We're going to make a small incision,"' Flores, now 54, said she was told. When she resisted, the mother of seven said health workers tied her feet and hands and anesthetized her.
All the women, said Flores, were surgically rendered barren through tubal ligations.
She is among more than 2,000 women who issued formal complaints about being forcibly sterilized under a program created by then-President Alberto Fujimori to dramatically lower Peru's birth rate.
Fujimori, now in prison for corruption and authorizing death squads, has said the tubal ligations were voluntary. But the women say they were deceived, browbeaten, threatened with jail, bribed with food parcels and otherwise pressured into the operations to meet program quotas.
In October, Flores thought justice might finally be at hand when Peru's new government told the Inter-American Commission on Human Rights it was re-opening a criminal investigation into the 1995-2000 program, which sterilized more than 300,000 women, mostly poor, illiterate Indians.
Yet three months later, there is scant evidence of progress.
The prosecutor put in charge of the case, Edith Alicia Chamorro, says she has only just begun to study its 62-volume folio and has been granted no special financial or human resources to devote to it.
Her boss, Peru's chief prosecutor Jose Pelaez, did not respond to repeated attempts by The Associated Press to discuss the case, including why prosecutors have yet to contact any of hundreds of women who are eager to provide testimony in hopes of receiving restitution.
"Why is the prosecutor, the minister of health, the national ombudsman closing the door on us?" Flores said in Lima this month at a gathering of sterilization victims organized by a congresswoman who has long supported them.
Activists say that besides being forced, the sterilizations were also often carried out in unsanitary conditions with little or no post-operation follow-up. They have documented 18 cases of women who died of infections shortly after being neutered.
In the annals of government-sanctioned involuntary sterilizations, Peru's appear to be among the biggest.
Such programs began in the late 19th century, spurred by eugenics movements that aimed to diminish the stock of supposedly substandard people starting with the mentally ill.
Nazi Germany sterilized an estimated 400,000 women before World War II. Sterilization has been wielded against ethic minorities in the name of racial purity and, as in Peru, the uneducated poor, said University of Michigan historian Alexandra Minna Stern.
"These type of large-scale campaigns of targeted sterilization unfortunately are not that uncommon in 20th-century history," said Stern, and Peru's program "has the most in common with the sterilizations that occurred in the U.S. during the late 1960s and early 1970s under the broad umbrella of family planning and population control."
In the U.S. they were typically funded with newly available dollars from Medicaid's expansion, and although numbers vary widely one U.S. study estimated that 100,000 sterilizations paid for with federal funds during 1972-1973 were coerced, Stern said.
Reckoning with that legacy is North Carolina, where nearly 7,600 men and women were forcibly sterilized through 1974. A panel created by the state's governor recommended last month that victims be given $50,000 each as compensation. That could cost as much as $100 million. The state Legislature will decide.
Peru hasn't even begun to discuss that question.
Its prosecutors have barely addressed the question of whom to hold accountable for the policy that Fujimori framed as a "family planning" program while announcing it at a 1995 women's conference in Beijing.
Fujimori would later boast from exile, three years after his corruption-suffused autocratic regime collapsed, that the "completely voluntary reproductive health program" had dropped Peru's birth rate from 3.7 children per woman in 1990 to 2.7 children a decade later.
Officials of his government claimed any abuses in the sterilization program, which also neutered nearly 25,000 men, should be blamed on overzealous local medical authorities.
Director Jeannette Llaja of DEMUS, an advocacy group that has long supported the sterilization victims, rejects such explanations.
"This was no spontaneous decision by bad health care providers," she said. "It was something directed by and known to the highest authorities."
Supervisors imposed sterilization quotas on health workers, she says, with one supervisor she knows of coming under such intense pressure that she had herself sterilized.
The program, while still active, became so controversial that the U.S. Congress cut aid payments to Peru that were used to fund the program.
After his government fell, Peruvian lawmakers initially recommended genocide charges against Fujimori. The chief prosecutor at the time, Nelly Calderon, told the AP she found no evidence of genocide so Fujimori was never charged.
A prosecutor who subsequently supervised the investigation of three Fujimori health ministers and lower-ranking officials, Victor Cubas, said the testimony he reviewed showed most of the sterilizations were coercive and carried out "under a government-approved plan."
That probe was shelved in 2009, however, after Cubas' bosses determined the statute of limitations had run out on the alleged crimes of serious bodily injury and manslaughter, and that human rights charges did not apply.
A senior official of President Ollanta Humala's attorney general's office reversed that assessment, however, when he informed the Inter-American Commission in Washington during an October hearing that his government was reopening the investigation because it qualified as a "crime against humanity."
Humala had revived the sterilizations issue during last year's presidential campaign against Fujimori's daughter, Keiko, whom he defeated in a runoff, rekindling media interest.
Alejandra Cardenas of the New York-based Center for Reproductive Rights says she considers it "a crime against humanity because of the scale and systematic nature of how it was implemented."
Cubas said the newly reopened investigation could include Alberto Fujimori, 72, himself as a potential defendant.
None of the three ex-ministers would agree to discuss the issue. All have said in the past that any forced sterilizations were isolated cases.
One sterilized woman, Serafina Illa, said her coerced tubal ligation, administered after she gave birth to her seventh child at age 34, went so badly that doctors declared her dead and sent her to the morgue.
Her husband found her there as she was awakening, she told the AP.
Another woman who underwent the procedure, Mamerita Mestanza, didn't wake up.
Her death from a sterilization-related infection became the basis for a 2003 settlement reached with the Inter-American Commission in which Peru agreed pay more than $100,000 to Mestanza's survivors and guarantee her children free education through high school and free medical care.
After it was determined that the government made the payments but didn't honor its agreement to provide free education, Peruvian officials told the commission it would reopen the criminal investigation.
Mestanza had been told she needed to be sterilized because women who gave birth to more than seven children were being imprisoned, according to the settlement.
Other women were told that if they refused to submit to the surgery, their newborns would not be registered, activists say.
In some cases, women were given food and medicine or promised free education for their children if they agreed to be sterilized, said Hilaria Supa, a Cuzco congresswoman who has helped organize the victims.
"In Peru, there is no justice for the poor," she said.