Boris Johnson announces month-long national lockdown of England
The lockdown will last five weeks, ending on December 2
NEWYou can now listen to Fox News articles!
British Prime Minister Boris Johnson announced a "circuit break" lockdown in England for the month of November as the nation struggles to contain the coronavirus.
The lockdown will commence Nov. 5 and end Dec. 2, when the country will return to the tiered system based on the latest data.
Residents will be allowed to leave their homes only for essential reasons, such as education, work, shopping and exercise. All non-essential businesses will be closed.
Pubs, bars and restaurants will close for general service, but can still provide takeaway services.
Schools, colleges and universities will remain open. "This virus cannot damage our children's futures more than it already has," Johson said.
ITALY PROTESTS OVER LATEST CORONAVIRUS CRACKDOWNS TURN VIOLENT
Johnson spoke alongside chief medical officer professor Chris Witty and chief scientific adviser Sir Patrick Vallance, both of whom explained the data that informed the prime minister's decision.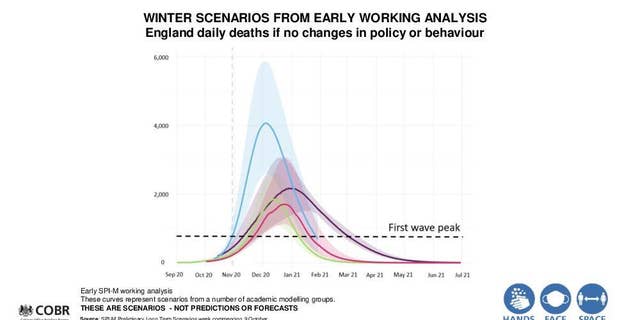 The government asked different agencies to project the outcome that current rates suggest for scenarios over the winter: All projections suggested that a peak over the winter would be at least double what it was in the spring.
EUROPE'S CORONAVIRUS CASES CONTINUE TO SPIKE AMID GROWING CALLS FOR SECOND LOCKDOWN
Prevalence of the disease rapidly increased over the last few weeks after leveling off over spring and summer.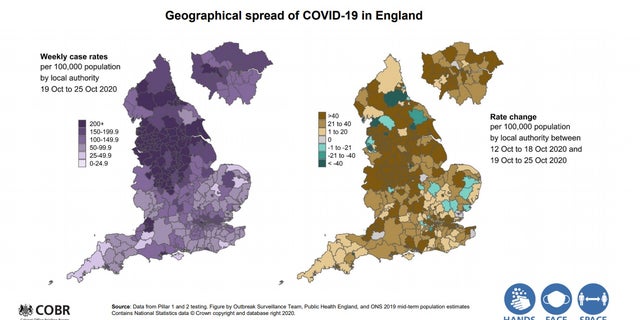 The sharpest increases have been in London and the West Midlands, with significant increases recorded in the North West and Yorkshire as well. Witty repeatedly stressed, however, that cases are rising in every part of the country.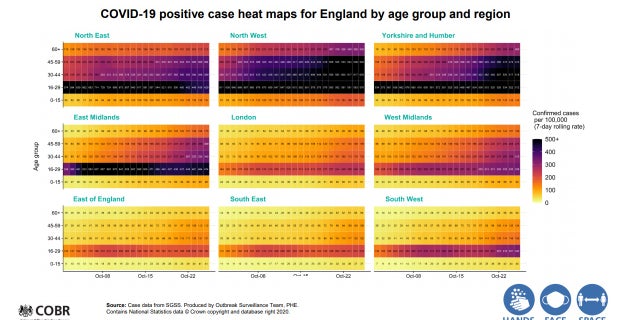 The rise in cases has been measured in every age group as well, with the sharpest increase among residents over 85 years old.
FIRST GENERATION OF CORONAVIRUS VACCINES 'LIKELY TO BE IMPERFECT,' UK OFFICIAL WARNS
The U.K. has recorded more than 20,000 new cases each day for the past week, with 21,915 new cases announced on Saturday alone. The U.K. has now recorded more than 1 million cases of the coronavirus overall. The nation's death total is the highest in Europe at 46,555.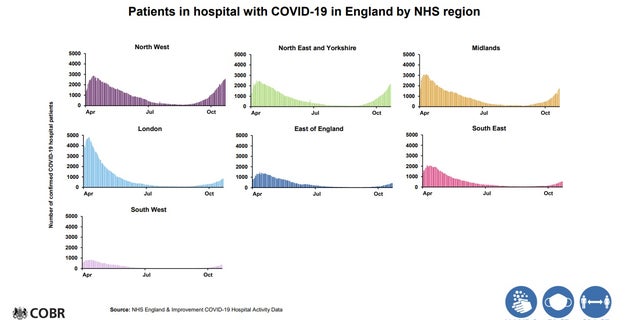 Hospitalizations in National Health Service hospitals and beds have also been on the rise, with only the North West close to level levels seen during the first spike in April. Based on the current trends, they are expected to exceed the first wave peak as well.
London Mayor Sadiq Khan lashed out on Twitter, saying that the lockdown should have happened sooner.
"The Government's delay means case numbers are now too high for a short, sharp, circuit breaker to be effective and a longer national lockdown is necessary," Khan tweeted, attaching a fuller statement to his message.
HEALTH WORKER'S EYE SOCKET BROKEN AFTER ASKING RAIL RIDERS TO WEAR CORONAVIRUS MASKS ON lONDON UNDERGROUND
The U.K. joins a growing list of European countries that have enacted lockdown measures again as cases continue to rapidly rise across the continent. However, Britain's lockdown will last five weeks - the longest of any lockdown thus far announced.
In France, the situation has grown so severe that Dr. Eric Caumes, head of the infections and tropical diseases department at Paris' Pitie-Salpetriere Hospital, told broadcaster Franceinfo on Monday that "we have lost control of the epidemic, though it doesn't date from yesterday."
French President Emmanuel Macron announced a new national lockdown, which started Friday, in order to avoid overwhelming the hospitals with surging cases.
"[France has been] overpowered by a second wave," Macron said in a televised address to the country Wednesday night. "We are having 40,000-50,000 new identified contaminations each day."
Germany also has instituted a month-long shutdown, with all non-essential services shut down. Officials there have warned that the curve must be flattened now before hospital wards fill up.
CLICK HERE TO GET THE FOX NEWS APP
"We must act, and now, to avoid an acute national health emergency," German Chancellor Angela Merkel said.