Japan's Parliament Elects Noda New Prime Minister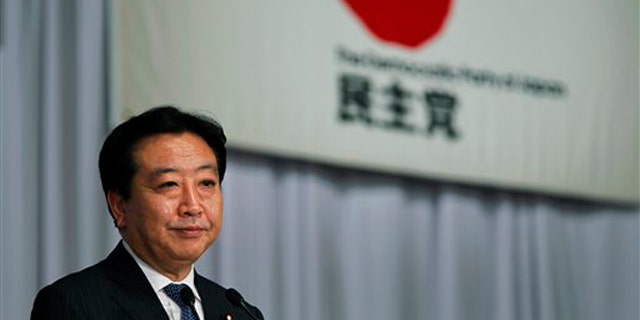 Japan's parliament elected former Finance Minister Yoshihiko Noda as the new prime minister on Tuesday -- the country's sixth leader in five years.
A fiscal conservative, Noda faces a host of daunting problems, including the post-tsunami recovery and nuclear crisis, and a sluggish economy and the yen's surge, which hurts Japan's exporters.
Noda, who was elected Monday to head the ruling Democratic Party of Japan, succeeds the unpopular Naoto Kan, who officially resigned earlier Tuesday with his Cabinet after nearly 15 months in office.
Noda, 54, must seek to unify the fractious ruling party and restore public confidence in politics amid widespread disgust over squabbling in parliament and perceived lack of leadership in the wake of the triple disaster.
He is a "moderate voice" in the ruling party, Sheila Smith, a senior fellow at the Council on Foreign Relations in Washington, wrote in a comment. "He has a steady temperament and a reputation for fairness in a party where loyalties have been severely tested of late."
Given the pressing problems at home, Noda will likely focus on the disaster reconstruction and other domestic matters.
A staunch supporter of the U.S.-Japan security alliance, Noda has angered China and South Korea for comments about convicted wartime leaders revered at the Yasukuni Shrine in Tokyo, where the souls of all Japan's war dead are enshrined.
Earlier this month, he reiterated his claim that the wartime leaders had paid their debts and should no longer be seen as war criminals. He made similar comments in 2005.
Yasukuni visits by postwar politicians have often enraged Japan's neighbors, who bore the brunt of Japan's colonial aggression and are sensitive to any efforts by Japan to whitewash its past.
As finance minister, Noda has been battling the yen's recent rise to record highs against the dollar.
Earlier this month, he authorized Japan's intervention in global currency markets to try to weaken the yen.
Noda has also said Japan must rein in its huge deficit -- twice the country's gross domestic product -- and has voiced support in the past for raising the country's 5 percent sales tax, but has toned that down lately.