Knife-wielding man yelling 'I will kill you' attacks schoolgirls bus stop near Tokyo, kills 2
A knife-wielding man screaming "I will kill you!" attacked schoolgirls waiting at a suburban Tokyo bus stop during morning rush hour Tuesday, killing at least two people and wounding at least 16 others before he killed himself.
Japan's Prime Minister Shinzo Abe said he was outraged after the attack and vowed to take all necessary measures for children's safety.
"It was an extremely harrowing incident in which small children were victimized, and I feel strong resentment," he said. "I will take all possible measures to protect the safety of children."
Most of the victims were elementary school girls who were lined up at a bus stop near Noborito Park in the city of Kawasaki when a man in his 50s began slashing them with knives.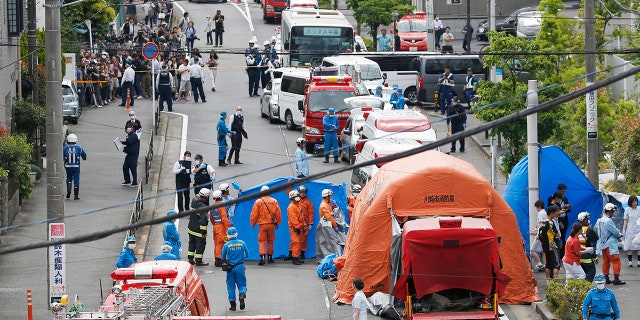 HOMELESS WOMAN, 25, KILLED IN 'HORRENDOUS BASHING' IN MELBOURNE PARK
Witnesses described a hellish scene, with children and adults falling to the ground, some with their shirts soaked with blood.
"I heard a scream so I stopped and turned around to see what happened. It was not a normal tone of voice," said Yasuko Atsukata. "The color of their white shirts turned red after they collapsed, then I understood they got stabbed."
Police said an 11-year-old girl and a 39-year-old man, believed to be the father of one of the girls, were killed. Kanagawa prefectural police named the dead schoolgirl as sixth-grader Hanako Kuribayashi. Hospital officials said the child and the man had been slashed in the head, chest, and face.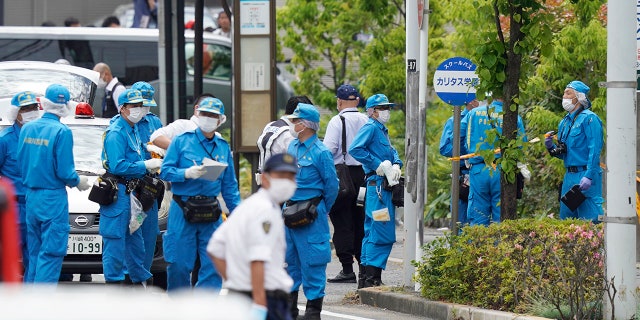 JAPANESE MAN DIES ON FLIGHT AFTER INGESTING 246 BAGS OF COCAINE: REPORT
President Trump, who was finishing a state visit to Japan and was on stage with Abe when he made the comments about Tuesday's attack, offered his sympathy to the victims.
"I want to take a moment to send our prayers and sympathy to the victims of the stabbing attacking this morning in Tokyo," he said. "All Americans stand with the people of Japan and grieves for the victims and their families."
The suspect, a resident of Kawasaki, was found unconscious at the scene and later died from a self-inflicted cut to the neck, city officials quoting police said.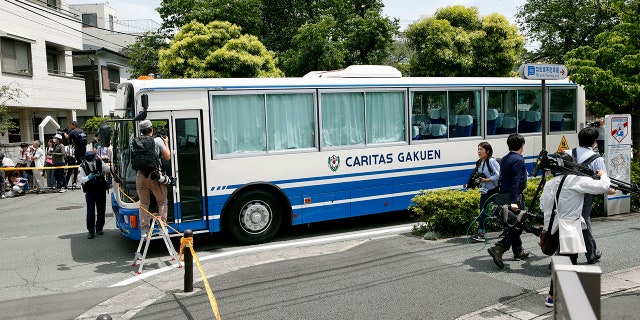 Masami Arai, a city official, said 16 people were injured, most of them schoolgirls attending Caritas Guken, a well-known private school founded by Soeurs de la Charita de Quebec, an organization of Catholic nuns in Canada. Three of the injuries were serious and 13 others were not life-threatening.
Police found two knives at the scene and would not confirm specifics about the attacker.
Although Japan has one of the lowest crime rates in the world, it has had a series of high-profile killings, including in 2016 when a former employee at a home for the disabled was accused of going on a stabbing spree that killed 19 and wounded more than 20 others.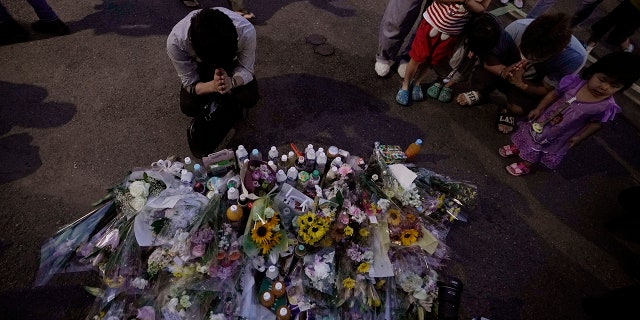 CLICK HERE TO GET THE FOX NEWS APP
In 2008, seven people were killed by a man who slammed a truck into a crowd of people in central Tokyo's Akihabara electronics district and then went on a stabbing rampage.
In 2001, a man killed eight children and wounded 13 others in a knife attack at an elementary school in the city of Osaka. The stunning attack ultimately led to increased security at many schools.
The Associated Press contributed to this report.