Italy Approves Austerity Package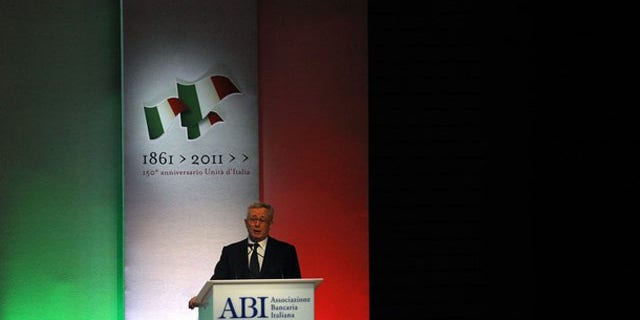 NEWYou can now listen to Fox News articles!
ROME -- Italy passed a euro70 billion ($99 billion) austerity package on Friday in a move considered crucial to preventing the eurozone's third-largest economy from succumbing to the debt crisis.
The lower house passed the measures by a vote of 314-280, following the passage earlier in the afternoon of a confidence vote in Premier Silvio Berlusconi's government. The package was approved by the Senate on Thursday.
Berlusconi's government fast-tracked approval of the package measures -- initially set for later this summer -- and increased their scope after markets plummeted this week on worries over Italy's financial stability.
The measures were approved as five Italian banks announced they had passed European stress tests. Both moves came after the markets closed, so their impact on the markets can only be measured next week.
Berlusconi, who remains under pressure from the opposition to resign, even showed Friday for a vote of confidence tied to the austerity package -- easily won by his government. He has been criticized for remaining out of the public eye at a time of crisis. Friday's was his first public appearance in about a week.
"I've not been absent or missing," Berlusconi said, according to the ANSA news agency. "On the contrary, these past days I've read all the documents, I've worked for the good of Italians."
Opposition lawmakers maintain the government is too weak and divided to handle to the financial turmoil, and should just give up.
"If Italy was the target of markets' attacks, it is because this government's policies have no credibility," said Rosy Bindi, the president of the opposition's strongest force, the Democratic Party.
Market fears grew this week that the financial crisis engulfing Greece, Ireland and Portugal might spread to Italy, a country marked by high debt and low growth, and far too expensive for Europe to rescue.
Italy's debt is among the highest in the eurozone at nearly 120 percent of GDP, but poor growth is viewed by many as the overriding issue.
The austerity package seeks to balance the budget by 2014 and contains 16 measures to spur growth, according to Tremonti, who spearheaded it.
It includes increases in health-care fees, cuts to tax breaks and high-end pensions, raises in the retirement age and public-sector salary freezes. The government is also looking into privatizing state-owned companies such as the state railway or postal services once the crisis eases.