Israeli leader Netanyahu, after meeting with Pence, forced to spend extra night in Poland after plane breaks down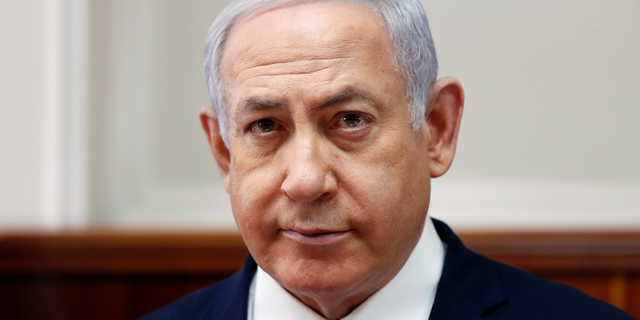 Israeli Prime Minister Benjamin Netanyahu had to spend Thursday night in Warsaw, Poland, after problems with his plane.
The El Al plane on which the prime minister and his entire entourage were set to travel suffered a breakdown just before takeoff Thursday following a two-day visit to a high-profile security conference initiated by the U.S. that included a meeting with Vice President Mike Pence.
The Israeli delegation was on-board during the breakdown. A tractor pulling the plane out on the runway apparently tugged it too strongly, leading to the breakdown.
POMPEO MEETS WITH EU'S TOP DIPLOMAT AMID PENCE ATTACK
Netanyahu and his wife were promptly taken off the plane Thursday and escorted to a hotel, where they spent the night.
Following the mishap, another plane was dispatched from Israel in a bid to return the Israeli delegation Friday, just before the beginning of the Jewish Sabbath.
The Israeli delegation had to use the Israeli airline's plane because the government doesn't have an official plane for the prime minister. The government has long sought to purchase a plane for official travel such as the journey to Poland.
US AMBASSADOR GRENELL BLASTS GERMANY FOR CELEBRATING IRANIAN ISLAMIC REVOLUTION ANNIVERSARY
During the conference, Pence criticized Europe for continuing to work with the Iranian regime and urged the continent's leaders to follow the U.S. and withdraw from the landmark 2015 nuclear deal with Iran.
"Sadly, some of our leading European partners have not been nearly as cooperative — in fact, they have led the effort to create mechanisms to break up our sanctions," Pence said. "Just two weeks ago, Germany, France, and the United Kingdom announced the creation of a special financial mechanism designed to oversee mirror-image transactions that would replace sanctionable international payments between EU businesses and Iran."
He added: "They call this scheme a Special Purpose Vehicle. We call it an effort to break American sanctions against Iran's murderous revolutionary regime. It's an ill-advised step that will only strengthen Iran, weaken the EU and create still more distance between Europe and the United States."
The Associated Press contributed to this report.