Israeli troops kill 2 Palestinians in arrest raids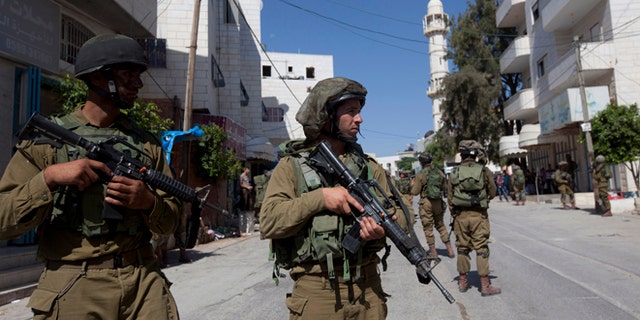 RAMALLAH, West Bank – Israeli soldiers killed a 13-year-old Palestinian in clashes during West Bank raids Friday, hospital officials said, as a search for three Israeli teens feared abducted in the territory entered its second week.
Three other Palestinians were seriously wounded by army gunfire during raids in four towns and refugee camps.
Friday's death raised to two the number of Palestinians shot dead by troops during search operations this week.
The three Jewish seminary students disappeared June 12 while hitchhiking in the West Bank. Israel has blamed the Islamic militant Hamas group for the apparent abduction, but has offered no proof.
Israeli Prime Minister Benjamin Netanyahu has used the search to promote two other objectives -- a new crackdown on Hamas and an attempt to discredit the Palestinian unity government formed earlier this month by Western-backed President Mahmoud Abbas, which is supported by Hamas.
Hamas has praised the abduction of the teenagers but has not claimed responsibility for it. The group has abducted Israelis in the past to press for the release of thousands of Palestinians held in Israeli prisons.
In Hebron, families of Palestinians arrested recently in Israeli raids protested after weekly Muslim prayers. They gestured with three fingers, one for each missing teen, in a sign of their support for the abduction.
The gesture has become popular on social media among Palestinians and others who support the abduction of the teens.
Over the past week, thousands of Israeli troops have searched hundreds of locations in the West Bank and arrested more than 300 Palestinians, many from Hamas.
The Israeli military said it conducted raids in four towns and refugee camps early Friday, detaining 25 suspects and searching about 200 locations. The army said it searched nine institutions linked to Hamas and confiscated materials.
In one raid, in the town of Dura near Hebron, Palestinian youths threw stones at soldiers, drawing army fire. A hospital official, who spoke on condition of anonymity because he was not authorized to talk to media, said 13-year-old Mohammed Dodeen was killed by a bullet in the chest.
The army also opened fire during a raid in the Qalandiya refugee camp, where three Palestinians were seriously wounded, said Ahmed Bitawi, director of Ramallah's hospital.
The army confirmed soldiers used life fire, saying they were responding to life-threatening situations, and added that the troops engaged in sporadic confrontations during Friday's raids. Palestinians threw homemade explosives, firebombs, fireworks and stones, and in Qalandiya, a soldier was lightly wounded by a grenade thrown at troops, the military said.
A senior Israeli intelligence officer said Friday that anyone linked to Hamas was potentially a target for arrest.
He acknowledged that despite recent government declarations of a major crackdown on Hamas, both Israel and Abbas' Palestinian Authority have already dismantled much of the movement's West Bank infrastructure in recent years.
"But there are a lot of small places that are supporting Hamas," he said, speaking on condition of anonymity in line with military briefing regulations.
"We'll go to every place that has a sign of Hamas on it, and we're going to hit it. Whether it's small or large. We really don't look only for the big symbols. There are no big symbols ... the Palestinian Authority did it (the crackdown) before and we did it."
The crisis has escalated already heightened tensions between Israel and the new Palestinian government, which is was meant to end a rift between the two main Palestinian factions stemming from Hamas' violent 2007 takeover of the Gaza Strip from Abbas' forces.
Palestinian Foreign Minister Riad Malki said Friday that if it emerges that Hamas did take the missing teens it would have a dire impact on the unity government.
"Clearly if it is proven that Hamas was behind the abduction, which was not proven yet, then the consequences for the reconciliation process will be very, very negative," he said.
"We have said that if it is proven that Hamas is behind it, then the president will take decisions and will have something to say about it, because we were talking about reconciliation, about a new page." He added that the abduction "will harm the achievements that we reached on the international level and it gave Israel the excuse to harm our people."
Also in Hebron on Friday, a number of foreign media crews covering a protest for Palestinian prisoners on hunger strike were roughed up by Palestinian Authority security forces.
The Foreign Press Association, which represents hundreds of journalists in Israel and the Palestinian territories, said undercover Palestinian police attacked a CNN crew, including senior correspondent Ben Wedeman, and smashed a camera.
"Deliberate violence and intimidation against professional journalists carrying out their work anywhere is totally unacceptable," the FPA said.
Families of the three missing teenagers, Eyal Yifrah, 19, Gilad Shaar, 16, and Naftali Fraenkel, a 16-year-old with dual Israeli-American citizenship, met with Netanyahu Friday afternoon before the start of the Jewish Sabbath.
"This is the second Sabbath that our children are not with us," Iris Yifrah, mother of one of the missing boys, told Channel 10 TV. "Our hearts are breaking," she said tearfully.