Israeli leader presses UK to impose new sanctions on Iran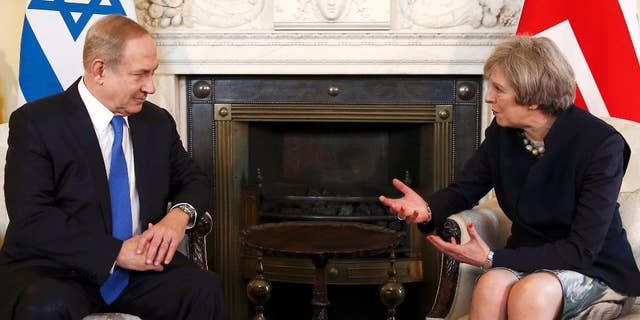 NEWYou can now listen to Fox News articles!
LONDON – Israeli Prime Minister Benjamin Netanyahu on Monday urged British Prime Minister Theresa May to follow the American administration and impose new sanctions on Iran over a recent missile test.

The two leaders met at 10 Downing St. for talks British officials hoped would focus on boosting trade ties between the two countries once Britain leaves the European Union.

As photographers captured the start of the meeting, Netanyahu told May: "I'd like to talk to you about how we can ensure that Iran's aggression does not go unanswered."

Iran and Israel are bitter enemies. Netanyahu vehemently opposes the 2015 international agreement that imposed curbs on Tehran's nuclear program in exchange for lifting sanctions. Britain backs the deal, which May has called "vital."

President Donald Trump, with whom May's government wants close ties, is also a critic of the Iran deal. His administration imposed new sanctions on more than two dozen companies and individuals after Tehran tested a ballistic missile last week.

In pointed remarks at the start of his meeting with May, Netanyahu said he wished other countries would follow the U.S. lead.

"Iran seeks to annihilate Israel, it seeks to conquer the Middle East, it threatens Europe, it threatens the West, it threatens the world," he said. "And it offers provocation after provocation."

Netanyahu added: "That's why I welcome President Trump's assistance of new sanctions against Iran. I think other nations should follow suit, certainly responsible nations."

The Trump administration is also perceived as sympathetic to Israeli settlements on occupied Palestinian land, an issue that caused friction between Netanyahu and former President Barack Obama.

The Palestinians claim the West Bank and east Jerusalem, captured by Israel in the 1967 Mideast war, as parts of a future state. They say the settlements, home to 600,000 Israelis, are making it increasingly impossible to partition the land into two states -- a position that has wide international backing.

May is under pressure to condemn Israeli settlement-building. The prime minister's office said May would raise Britain's longstanding concerns that the settlements undermine the peace process, although it is expected to form only a small part of the meeting.

May said at the start of the meeting that "we remain committed to a two-state solution as the best way of brokering stability and peace."