Israeli gay party organizer criticized for using ISIS-inspired imagery on posters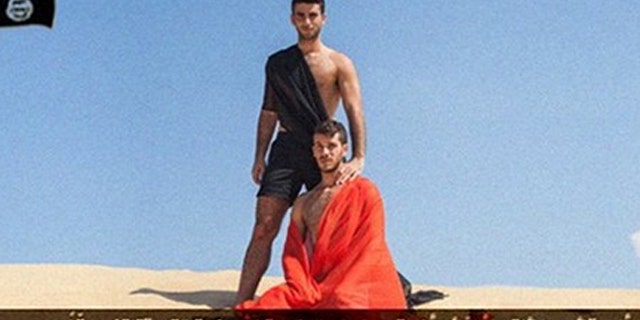 A popular Israeli gay party organizer is under fire for promoting an event using imagery that closely resembles ISIS' shocking beheading videos.
One of the posters – which was put up on Drek's Facebook page – shows a bare-chested man draped in a black sarong standing over a man wearing an orange top -- similar to the ones worn by hostages in the militant group's beheading videos.
Amiri Kalman, one of Drek's founders, told Ynetnews that the posters are "satire" and they "are trying to react to current events."
"We have been doing it for a number of years," he said. "But we reject violence in any form and that includes the [execution] videos intended to scare the world."
But commenters on Drek's Facebook page called the images "poor satire" and accused the organizer of "getting a laugh off of the murder of innocent victims."
Kalman said the actual party that the posters promoted did not include ISIS-related images or props.