Israeli army strikes Gaza after school bus hit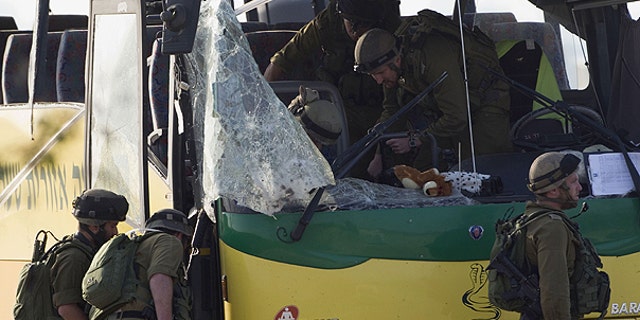 JERUSALEM – Israeli aircraft and ground forces struck Gaza on Friday, killing two Hamas gunmen and wounding seven Palestinians in a surge of fighting sparked by a Palestinian rocket attack on an Israeli school bus the day before.
Israel's ongoing retaliation for the bus attack has killed five militants, a policeman and a civilian. An Israeli Cabinet minister said the strikes will continue.
In Thursday's bus attack, Gaza militants hit an Israeli school bus near the border with an anti-tank rocket, badly wounding the driver and a 16-year-old boy. Hamas, the Iran-backed militant group that controls Gaza, claimed responsibility for the attack. The boy remains unconscious in the intensive care ward of an Israeli hospital.
At around midnight Thursday, with Gaza rocked by explosions, Hamas announced a cease-fire. The Israeli strikes continued, hitting Hamas facilities and smuggling tunnels.
An Israeli airstrike Friday morning near the town of Khan Yunis killed two Hamas gunmen and wounded a third, according to Hamas. Gaza's Health Ministry said three civilians were wounded.
Palestinian rescue services reported that three other Palestinians were wounded by Israeli tank fire in a separate incident in southern Gaza. It was unclear if they were armed men or bystanders.
In Israel, studies at some schools near Gaza were canceled Friday because of concerns for the students' safety.
Matan Vilnai, the Israeli Cabinet minister in charge of the home front, told Army Radio that Israel was engaged in a "war of attrition."
"We are acting as we see fit so that this type of fire will not continue, and so that the people behind the fire will regret it," Vilnai said.
The new round of fighting saw a potentially significant strategic breakthrough.
After years of development by an Israeli defense contractor, the Israeli military activated a new cutting-edge missile-defense system for the first time Thursday. The Iron Dome system scored a direct hit on an incoming Palestinian rocket aimed at an Israeli city, shooting it down, Israel said.
Thousands of rockets from Gaza have hit Israeli towns and cities since 2001.
______
Associated Press Writer Ibrahim Barzak contributed reporting from Gaza City, Gaza Strip.