Israel Foreign Minister says no prisoner releases during Palestinian UN bid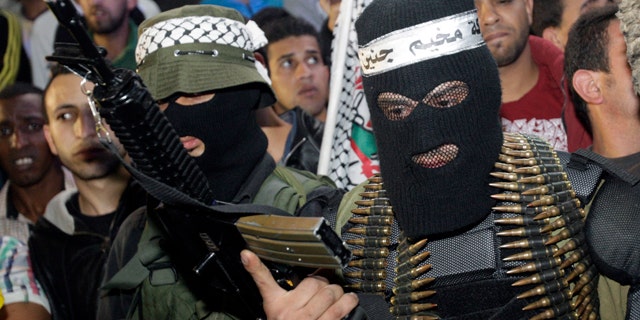 JERUSALEM – Israel's foreign minister on Tuesday warned the Palestinians that a planned prisoner release will not happen as long as they pursue what he called a "provocative" bid to join U.N. agencies.
Avigdor Lieberman also accused the Palestinians of breaking the terms of the U.S.-brokered peace talks, saying they should "pay a price" for this.
The remarks came as the Israeli-Palestinian peace talks have become embroiled in their worst crisis since U.S. Secretary of State John Kerry persuaded the two sides last summer to resume talks for nine months.
Under the terms of renewed talks, Israel had promised to release 104 long-held Palestinian prisoners in four groups, while the Palestinians said they would suspend a campaign to sign up Palestine, recognized by the U.N. General Assembly as a non-member observer state in 2012, for as many as 63 U.N. agencies, treaties and conventions.
But as the talks stalled and after Israel last week failed to release the fourth group of prisoners on time, Palestinian President Mahmoud Abbas signed letters of accession for 15 international conventions.
Lieberman said the final prisoner release was off the table unless the Palestinians reversed course on the U.N. bids.
"We are in favor of negotiations but the previous offer about releasing prisoners doesn't exist anymore," Lieberman told Israel's Army Radio on Tuesday. "Whoever broke the rules has to bear responsibility ... therefore the previous offer is not relevant anymore."
Mohammed Ishtayeh, an aide to Abbas, said on Monday that the letters of accession will not be withdrawn and that the step is irreversible. He said the Palestinians were ready to widen their bid.
Palestinian Foreign Minister Riyad Malki said the Arab foreign ministers will convene in Cairo on Wednesday to discuss the breakdown in talks and Abbas will ask them for political and financial support.
The crisis in talks has also spurred Kerry to say the U.S. would rethink its mediator role.
Kerry originally hoped for a peace deal by April 29.
But after months without progress in the Mideast negotiations, he lowered his sights, saying he sought a framework deal by that date. In recent weeks, negotiations focused on reaching agreement on extending the talks into 2015.