Israel Clears Out Embassy Staff in Jordan Ahead of Protest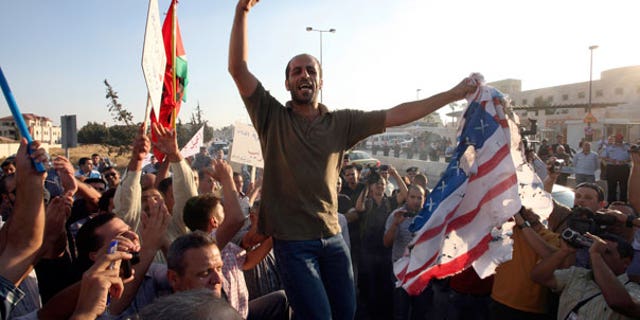 NEWYou can now listen to Fox News articles!
JERUSALEM – Nearly all the staff have been cleared out of the Israeli embassy in the Jordanian capital ahead of an anti-Israel protest in Amman on Thursday, for fear the mission could be attacked like the Israeli embassy in Cairo was last week, Israeli newspapers and radio stations reported.
A convoy transporting the Israeli diplomats left Jordan for Israel overnight, the Haaretz newspaper said.
The Israeli Foreign Ministry wouldn't comment on the reports, other than to say that embassy personnel generally leave Jordan on Thursdays ahead of the Muslim weekend. It said a duty representative remained on call in Amman, as is routine procedure.
Activists in Jordan have called for a "million-man march" against the Israeli mission, part of a rising tide of anti-Israel protests there and in Egypt, the two Arab countries that have made peace with the Jewish state.
The Jordanian protesters -- led by leftists, labor unions and Islamists -- are expected to start gathering near the embassy by 1400 GMT. Their demands include the embassy's closure, expulsion of the ambassador from Jordan and the annulment of the 1994 peace treaty with Israel.
Nearly half of Jordan's 6 million residents are of Palestinian descent. With Palestinian-Israeli peace talks stalled, some Jordanians fear Israel may try to substitute Jordan for a Palestinian state -- a concept that has little support in Israel.
At the embassy in Amman, about two dozen Jordanian visa applicants waited outside the fortified building as armed Jordanian policemen and Israeli security stood on guard Thursday morning.
The Israeli flag flew atop the embassy's white-stoned building on a hill in Amman's upscale Rabiyeh district. No extra security measures were visible -- two roadblocks leading to the embassy were still in place, as were about a dozen armed Jordanian police patrols.
Anti-Israel sentiment is mounting at a volatile diplomatic time for Israel and its Muslim allies.
The Palestinians plan to ask the United Nations next week to endorse an independent Palestinian state, over Israeli and U.S. opposition.
There is also growing friction with Turkey, which recalled its ambassador to Israel after Israel refused to apologize for the deaths of nine Turks in a deadly Israeli military raid on a Gaza-bound flotilla last year.
Ties with Egypt have been strained by the ransacking of the Israeli embassy in Cairo on Friday and the killing of six Egyptian soldiers last month. The deaths occurred as Israeli troops pursued militants who had crossed from Egypt into southern Israel and attacked vehicles near the border, killing eight Israelis.
And in a rare anti-American demonstration in U.S.-ally Jordan, protesters on Wednesday demanded the closing of the U.S. Embassy in Amman over WikiLeaks cables suggesting covert American plans to turn Jordan into a home for Palestinians.
About 70 activists burned American and Israeli flags in a noisy protest across from the U.S. Embassy in Amman and chanted: "The people want the Americans out."