Facebook Page Calls for Action Against Israeli Embassy in Amman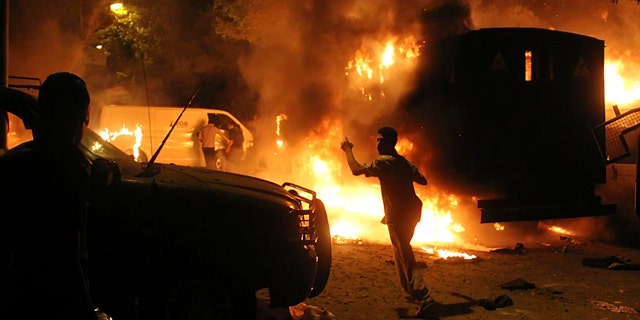 A Facebook page created over the weekend calls for a march Thursday targeting Israel's embassy in Amman, Jordan, just days after a similar protest in Cairo, Egypt, resulted in a 13-hour rampage that trashed the Israeli diplomatic compound there.
"Our motto: No Zionist embassy on Jordanian territory," the Facebook page reads. Nearly 2,500 people have pledged to attend the protest in Jordan, with Israeli news reports suggesting protestors could break into the embassy and take down the Israeli flag.
Jordanian officials are said to be preparing for the worst. But Facebook, which has a clear policy against hate speech and violence, said the protest page conforms with the social network's terms of service, according to company spokesman Andrew Noyes.
"The page doesn't violate our Statement of Rights and Responsibilities, which governs our relationship with users and others who interact with Facebook," he told FoxNews.com.
The page specifically calls for Jordanians to participate in a "Million Man March" aimed at shutting down the embassy. It does not explicitly call for violence, but rather for the people to carry Jordanian flags and banners.
Israeli officials are aware of the protest and have discussed the matter with their Jordanian counterparts in recent days, reported Ynetnews in Jerusalem. Jordan's security forces have boosted security around the embassy compound.
"Our interlocutors in Jordan are aware of the sensitivities," an Israeli official said Sunday. "We hope they will find a way to prevent violence against Israeli diplomats in Jordan," the Jerusalem news agency reported.
Rabbi Abraham Cooper, associate dean of the Simon Wiesenthal Center and director of the Center's Digital Terrorism and Hate Project, said he had warned Facebook about the planned protest as well.
"Yesterday, I had a conversation with our contact at Facebook, because right now there are calls in Amman to attack the Israeli embassy this Thursday," he told FoxNews.com. "We have asked Facebook to take a very serious look … and to maybe take some stronger action in the next couple of days."
Facebook has a clear-cut policy that prevents hate speech, as well as organizations or gatherings that promote violence.
"We are trying to make the world a more open, connected, and ultimately better place. Organizing acts that harm others through theft, vandalism, or fraud is a violation of our terms," the policy reads.
Cooper described Facebook as one of the better social networks in terms of its efforts to combat hate speech. "We don't always get the full action that we're looking for … but considering it's 600 million pages and we're talking multiple languages … they are at least in the hunt."
"This is a company that has tried to be responsible," he told FoxNews.com.
Cooper told FoxNews.com that prior to the attacks on the Israeli embassy in Cairo, the Wiesenthal Center brought several pages on Facebook to the company's attention, as well as some of the Arab-language forums that reference them.
Some of the material was removed -- though the pages themselves were left online. "They didn't take down the page, but they took down some of the material that was explicitly calling for violence," he said.