Iraq evacuates its citizens in Syria by air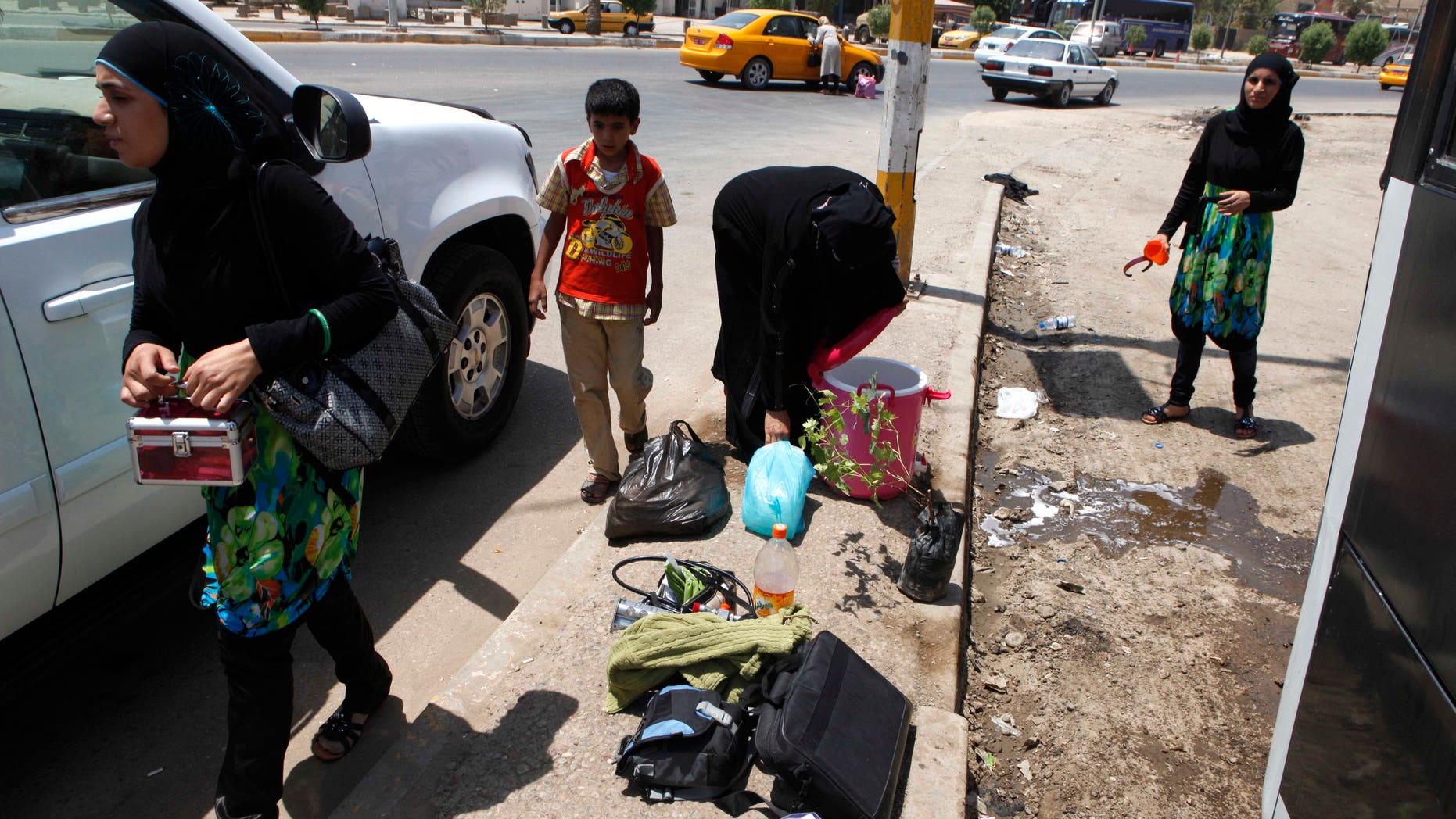 BAGHDAD – Hundreds of Iraqis flew out of Syria over the past two days to escape an escalating civil war, officials said Friday, while thousands more poured through a major border crossing despite rebel takeovers of Syrian government posts and violence near the two nations' boundaries.
The Iraqi government has so far run eight flights to Damascus and by Friday morning had evacuated 750 residents, said Capt. Saad al-Khafaji of the state-owned Iraqi Airways. Two planes were headed back to pick up more passengers, he added.
"We will continue the flights until there are no Iraqis left" in Syria, al-Khafaji said. He said transportation officials have stopped bussing Iraqis across the border from Syria "because of the dangers."
Meanwhile, two Iraqi government officials said the border crossing at al-Walid -- the largest between Iraq and Syria -- remained open. They said an estimated 50 buses, some 3,000 people, had so far come through al-Walid.
One of the officials, Iraqi Army Brig. Gen. Qassim al-Dulaimi, said Syrian government customs inspectors were at their posts at the crossing Friday morning. Al-Dulaimi oversees forces in the region.
The other official, a spokesman for Iraq's western Anbar province named Mohammed Fathi, said the Red Cross was setting up tents and distributing medical supplies on Friday for returnees at the crossing, located about 373 miles from Baghdad.
Fadhil Radhi, an Iraqi citizen who said he travelled to Baghdad via the crossing, said he and his family passed through al-Walid around midnight on Friday after deciding that life in Syria was too dangerous. His family of five fled to Syria in 2007 to escape brutal sectarian fighting from their home in the southern Iraqi city of Basra. They were among what the U.N. estimates was more than a million Iraqis who moved to Syria during Iraq's darkest days between 2006 and 2008.
"We decided to return to Iraq because we feared for our lives, especially after the rise in killings and assaults targeting Iraqis living in Syria," Radhi, 48, said Friday while unloading his luggage from the bus that drove him from Damascus. He said bus tickets for the trip had more than tripled -- from $30 to $100 per person -- in the last week.
"Thank God, we have the money to pay for the trip back because I know families who are stranded in Syria because they do not have money to go back home," he added.
Fathi, the spokesman, said the local Anbar government sent 30 buses to al-Walid to help drive Iraqis home. Both men said the site had remained open throughout Thursday.
Syrian rebels did however seize control of another border crossing, at the Iraqi town of Qaim on Thursday, al-Dulaimi said. He added that another band of rebels attacked a Syrian military outpost near the Iraqi border in the remote Sinjar mountain range, killing 21 soldiers in a grisly onslaught.
Other Iraqi officials said two more border crossings between the two countries -- near the Iraqi town of Rabiya in northwest Ninevah province, and in the northern Kurdish region -- remained open.
Those officials declined to be named because they were not authorized to brief the media.