Iraq dissolves national airline over decades-old financial dispute with Kuwait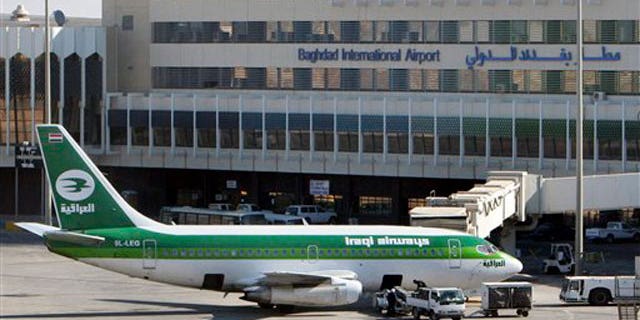 BAGHDAD – BAGHDAD (AP) — Iraq's government has dissolved state-owned Iraqi Airways over a decades-old financial dispute dating back to Saddam Hussein's invasion of his oil-rich neighbor Kuwait, the Transportation Ministry said Wednesday.
Kuwait's national airliner, Kuwait Airways, has long demanded $1.2 billion in reparations from the airliner for alleged theft of 10 airplanes and millions of dollars worth of spare parts during the 1990 invasion. It had sought to freeze the company's assets worldwide.
A lawyer for Kuwait Airways called the Iraqi government's strategy a "cynical tactic" and said it will not end the dispute because Kuwait will still hold the government accountable for the debt.
Iraqi Transportation Ministry spokesman Aqeel Hadi Kawthar told The Associated Press the company will continue to operate until it is fully dismantled, but he did not give any timeframe.
Another ministry spokesman, Karim al-Tamimi, said the government made the decision to dismantle the airline on Tuesday.
"Iraq's Cabinet decided to close Iraqi Airways and announced its bankruptcy because the company doesn't own any airplanes and because of the Kuwaiti government's cases raised against the company," al-Tamimi told the AP. "We hope in the future to replace it by two or three companies to resume its operations."
Iraqi Airways did not own any of its own planes, but chartered them from other companies.
On Tuesday, the airline said it had canceled routes to Britain and Sweden after Kuwait tried last month to confiscate the airliner's first plane to fly to London in 20 years.
Lawyers working for Kuwait attempted to confiscate the airplane that made the flight, but were not able to when it turned out to be chartered from a Swedish company and not owned by Iraqi Airways.
At the time, Iraqi Airways chief Kifah Jabar Hassan had his passport seized in Britain and was forced to stay there for more than a week in connection with the Kuwaiti claims.
Hassan issued a statement Tuesday on the cancellation of routes in which he criticized Iraq's government for failing to resolve the prolonged dispute with Kuwait.
Iraq has said in the past that repeatedly called for talks over the case to solve it in a "friendly way," but the Kuwaitis did not respond.
Christopher Gooding, a lawyer representing Kuwait Airways in the dispute, said precise details of Iraq's plans for its national airline remain vague.
"It appears to me to be a sorry reflection of Iraq's attitude to its international commitments that liquidating its own national airline is seen as preferable to addressing those commitments," Gooding said in an emailed statement to the AP.
He dismissed the notion that creating a new set of airline companies would end the dispute.
"This action will not protect a government company, because when a government company is declared bankrupt, its assets are transferred to the Ministry of Finance, and therefore the ministry will be prosecuted," he said.
He said Kuwait Airways has legal contingency plans in place to deal with the case, and continues to hold the state of Iraq responsible for Iraqi Airways' assets.
___
Associated Press Writer Adam Schreck in Dubai, United Arab Emirates, contributed to this report.