Iran Woos Leaders of U.S. Allies as Troops Withdraw From Region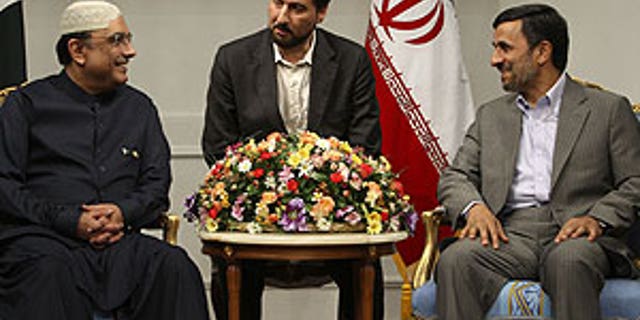 NEWYou can now listen to Fox News articles!
Washington – Iran is moving to cement ties with the leaders of three key American allies -- Afghanistan, Pakistan and Iraq -- highlighting Tehran's efforts to take a greater role in the region as the U.S. military pulls out troops, The Wall Street Journal reported Monday.
The Afghan and Pakistani presidents, visiting Tehran, discussed with Iranian President Mahmoud Ahmadinejad "many issues … that might come up after the NATO military force goes out of Afghanistan," Iranian Foreign Minister Ali Akbar Salehi said.
"The three presidents were very forthcoming in carrying out the cooperation and contacts so as to make sure things will go as smoothly as it could," he said.
That comment was seen as a jab at Washington, which is increasingly in competition with Tehran for influence in the region, particularly as popular rebellions have surged across the Middle East and North Africa since January.
The overtures by U.S. nemesis Iran come amid tensions between Washington and three governments that have each received billions of dollars in U.S. aid. Afghan President Hamid Karzai, before traveling to Tehran, welcomed President Barack Obama's announcement on Wednesday that the U.S. would withdraw 33,000 U.S. troops from Afghanistan over 15 months.
The U.S. is also committed to withdrawing all of its remaining 45,000 troops from Iraq by year-end; some U.S. military officials want some troops to stay to serve as a check on Iran, but Iraqi hostility to the U.S. presence has been an obstacle.
In Pakistan, military and civilian leaders are under domestic pressure to curb U.S. ties, in a wave of anti-Americanism fueled by the U.S. raid in May that killed Usama bin Laden at his home in Pakistan.
Tehran has been pressing Afghanistan -- Iran's neighbor to the east -- and Pakistan to end their military alliances with Washington. Officials at the White House and State Department declined to comment on Sunday on the Tehran meetings.
U.S. and European officials have said they believe Iran's regional ambitions are hampered by a stagnant economy and growing political infighting in Tehran that could cost Ahmadinejad his job.
There are also historical tensions between neighbors -- and in some cases, current conflicts. Afghan President Hamid Karzai told Pakistan President Asif Ali Zardari that Pakistan must stop lobbing rockets into his country, according to a statement from Karzai's office. Zardari denied Pakistan's military was firing the rockets.
But Iran's government took every opportunity to play up its international ties during a weekend that also included a conference in Tehran attended by representatives from about 60 countries.
The Obama administration and European nations had lobbied countries against attending what Iran called an "International Conference on the Global Fight against Terrorism." The U.S. characterizes Tehran as the world's largest state sponsor of terrorism.