Indian Court Convicts 31 Hindus of Killing Muslims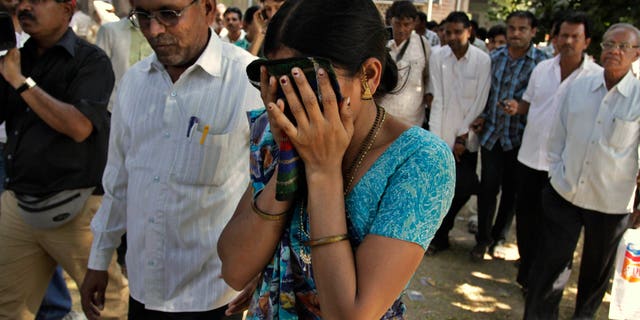 AHMABADAD, India -- A court sentenced 31 Hindus to life imprisonment Wednesday for killing dozens of Muslims by setting a building on fire during one of India's worst rounds of communal violence nine years ago.
Judge S.T. Srivastava acquitted 41 other Hindus of murder charges for lack of evidence.
Those convicted can appeal the verdict in a higher court.
Relations between Hindus and Muslims have been largely peaceful since the bloody partition of the subcontinent into India and Pakistan on independence from Britain in 1947. But mistrust runs deep and there are sporadic bouts of violence.
The worst recent violence erupted in 2002 in Gujarat state. More than 1,000 people, most of them Muslims, were killed by Hindu mobs after a train fire killed 60 Hindus returning from a pilgrimage. Muslims were blamed for the fire.
Rioters set a building on fire in a village in Mehsana district, about 25 miles north of Ahmadabad, the main city in Gujarat state. Thirty-three Muslims, including 20 women, who had taken shelter there were burned alive.
Two of the suspects died during the trial, which was expedited by orders from India's Supreme Court.
Muslims account for about 14 percent of India's population of 1.1 billion but lag far behind the Hindu majority in most social indicators, from literacy to household income.
Wednesday's verdict was the first in nine cases of rioting and murder pending against hundreds of Hindu hard-liners.
With the Supreme Court ordering a speedy trial of the suspects, the courts are expected to issue verdicts in the other eight cases within a year. Indian courts are notorious for long delays.
The Gujarat state government, run by the Hindu nationalist Bharatiya Janata Party, was accused of looking the other way when Hindu hard-liners attacked the Muslim community after the train fire.
Cedric Prakash, a rights activist, said the verdict showed that the wheels of justice were moving in the right direction.
"The conviction of such a large number of suspects in a communal violence incident in the country is unprecedented. Other cases now need to be expedited and the guilty, irrespective of the office they hold, should be convicted as soon as possible," Prakash told reporters.
He is the director of Prashant, a center for protecting human rights, justice and peace in the state.