India says it is suspending registration of Greenpeace India over foreign funding issue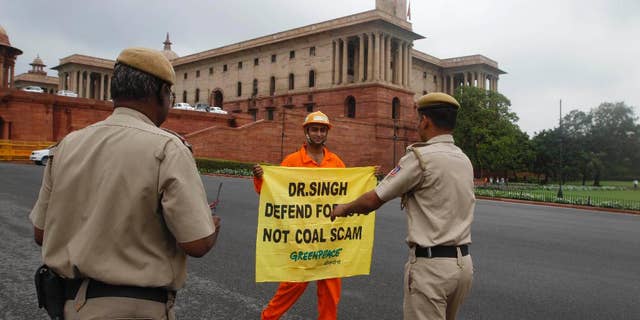 NEWYou can now listen to Fox News articles!
NEW DELHI – India's home ministry on Thursday temporarily suspended the registration of Greenpeace India, saying it was under-reporting foreign contributions and using them without government approval.
The suspension lasts six months and the ministry gave the organization 30 days to challenge the order. Until then, it would not be able to operate its bank accounts in the country.
India began cracking down on foreign-funded charities last year after an internal report alleged that India lost up to 3 percent of its gross domestic product when the groups rallied communities against polluting industries.
Greenpeace India said Thursday it had received no ministry communication, but it was seeking legal advice on the information posted on the ministry's website.
"This is a smear, pure and simple," said Samit Aich, the Greenpeace India executive director.
"We believe in the Indian legal system. A campaign is being waged against dissent, but we will not be cowed," he said in a statement.
India's national Investigative Bureau's report last year specifically criticized the charities for organizing public protests against nuclear power plants, uranium mines, coal-fired power plants, genetically modified crops and electronic waste.
It also accused the groups, including Greenpeace, Amnesty International and Action Aid, of providing reports "used to build a record against India and serve as tools for the strategic foreign policy interests of Western Governments."
Aich said Greenpeace India would continue to work toward clean air, clean water and inclusive development in India. "Our work is supported by people of this country and 70 percent of Greenpeace India's funds come from Indian donors."
Many of India's 400 million impoverished people — who earn less than $1.25 a day and rely heavily on foraging for food, fresh water or firewood — have become anxious about environment degradation. Indians breathe some of the world's dirtiest air, bathe in toxic or fetid rivers and face water scarcity.