India government approves massive food scheme for poor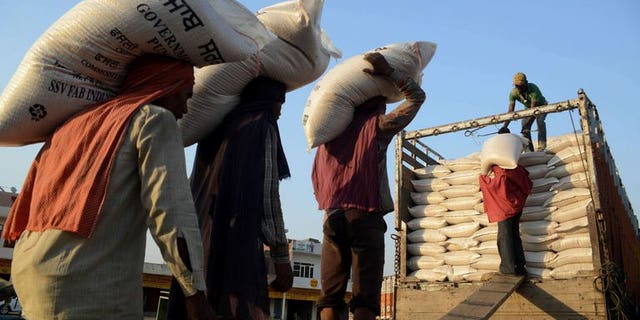 NEW DELHI (AFP) – India's government Wednesday approved a vast food welfare programme targeting the nation's poor as it sought to increase its popularity before national elections next year.
"The cabinet has unanimously approved the food security ordinance," food minister K.V. Thomas told reporters, adding that the measure would be sent to India's president later Wednesday for approval.
President Pranab Mukherjee was due to pass the long-delayed National Food Security Bill as an ordinance, meaning it would come into law immediately but must eventually be approved by parliament.
The multi-billion-dollar populist food welfare programme will be the largest in the world, offering subsidised grains to nearly 70 percent of the population, or more than 800 million people.
The flagship programme has been pushed strongly by the head of the ruling Congress party, Sonia Gandhi, who has insisted on honouring a 2009 election pledge despite concerns about the impact on the public finances and food prices.
The measure, which government officials have said would increase the annual subsidy bill by around 1.1 trillion rupees or close to $20 billion is considered key to the Congress-led coalition's fortunes in the elections due in the first half of 2014.
The bill had been expected to be cleared by lawmakers in parliament in February, but it was never introduced due to protests from the opposition over corruption which repeatedly disrupted proceedings.
Opposition parties have attacked the government for ramming the measure through by decree, saying there has not been enough discussion of its effect on prices and on farmers who must produce more food.
Veteran communist leader Brinda Karat said the bill had "many flaws" and now the government "wants to push this bill through as an ordinance".
"A proper discussion" in parliament is needed on the measure, she told reporters.
The bill guarantees a monthly supply of between three kilos (seven pounds) and seven kilos of grain per person, depending on their level of income.
Food prices have soared in India over the last seven years, causing increased hardship in a country that still struggles to feed its population adequately despite its impressive economic growth over the last two decades.
An Indian survey released last year, which Prime Minister Singh called a "national shame", showed that 42 percent of children under five were underweight and 58 percent of them were physically stunted.
One of the findings stressed by the authors was that malnourished children were rarely hungry, however, but rather badly fed due to widespread ignorance about nutrition.
Critics of the food programme also say that India can ill-afford such a costly subsidy at a time of slowing economic growth and when credit ratings agencies are eyeing the country's large deficit.
Indians classed as below the poverty line can already receive subsidised kerosene, cooking gas, fertilisers or wheat through what is the world's biggest public distribution system.
But the chaotic welfare programmes are notoriously inefficient and riddled with corruption.
A study by the national Planning Commission in 2005 showed that an estimated 58 percent of grains purchased by the government failed to meet their intended targets.
Photographs of rotting food grains left out in the open due to a chronic shortage of food storage facilities are also an annual feature in newspapers who report on the waste during the monsoon season.
But the Congress-led government sees the bill as addressing one of India's most intractable problems of malnutrition, which is an embarrassment for an aspiring superpower.
Despite the administration difficulties and concerns about the cost, strategists for the government also see it as vital vote-winning scheme ahead of elections scheduled for early next year.
The left-leaning Congress party, which has a record of passing large welfare programmes such as the 2005 Rural Employment Guarantee Act, has suffered a scandal-hit second term undermined by corruption.
The economy has also slowed to its lowest rate of growth in a decade, undermined by low business confidence, a lack of market-opening reforms, high inflation and poor investment.