Immigrants Thrive in Long Island - Former Tension Hotspot, Report Says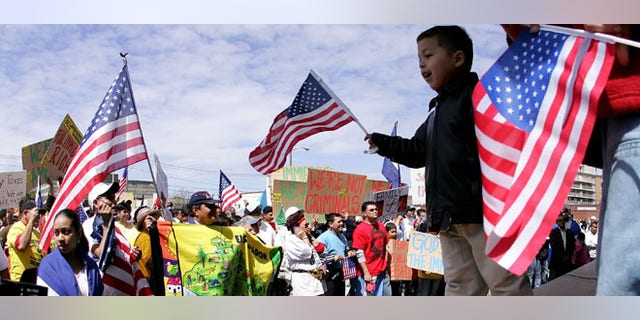 Before controversial immigration laws in Alabama, Arizona and Georgia made headlines, there was Long Island, New York. But a new study released on Thursday shows that this former hotspot of tension over immigration has quietly become a haven for successful immigrants.
The report, released by the Fiscal Policy Institute, found that 54 percent of white-collar jobs on Long Island were held by immigrants and that 22 percent of small businesses in the area were owned by immigrants. Besides many immigrants holding white-collar jobs, about half the immigrants on Long Island live in households where the annual income is over $80,000.
"I think it's time to turn the page on the immigration debate on Long Island," said David Dyssegaard Kallick, a senior fellow at the Fiscal Policy Institute. "Too often, people assume that they know all they need to know about immigration by driving by a shape-up site for day laborers. There are 462,000 immigrants on Long Island, of which the few dozen men standing on scattered street corners are a tiny fraction."
While the study found that in general immigrants on Long Island were relatively well off, it did show that those from Latin American nations tended to hold less white-collar jobs than those from other parts of the world. Only 19 percent of Hondurans held white collar jobs and 23 percent of Guatemalans.
I think it's time to turn the page on the immigration debate on Long Island
In comparison, 83 percent of immigrants from Pakistan and 79 percent from Philippines are considered white-collar workers.
This trend carried over into entrepreneurship as immigrants from El Salvador only owned five percent or more of the small businesses on Long Island, despite being the area's prevailing immigrant minority at 12 percent.
Addressing the issue of illegal immigration, the study said that one in five immigrants on Long Island were undocumented and that the majority of them hold low-wage jobs in the service, construction or production industries.
"It is a fair estimate that less than one percent of immigrants on Long Island are day laborers – workers hired from shape-up sites," the report stated. "While reasonable concern may be raised about these shape-up sites, workers hired through them represent a tiny fraction of the 460,000 immigrants on Long Island, and a small fraction even of undocumented immigrants in the area."
Despite taking up four spots in the top 10 list of countries of birth, Latinos on Long Island make up only about a third of the total immigrant population. In fact, the majority of Latinos on Long Island were born in the United States.
In 2008, Long Island drew national attention as a center for anti-Latino crime after the stabbing death of an unarmed Ecuadorian immigrant, Marcelo Lucero, by a group of teenagers.
While the report's findings seem stunning, they actually fall in line with other affluent, suburban areas around the country, with both Nassau and Suffolk counties ranking in the middle in terms of immigrant share of the population.
"Immigration has been a prominent political topic on Long Island." the report said. "Set in a national context, however, Long Island does not stand out as a likely area for immigration to attract special attention."
Andrew O'Reilly can be reached at andrew.o'reilly@foxnewslatino.com or follow him on Twitter: @aoreilly84
Follow us on twitter.com/foxnewslatino
Like us at facebook.com/foxnewslatino