Hundreds feared dead after migrant boat capsizes in Mediterranean Sea
A major rescue operation is underway in the Mediterranean Sea, north of Libya and south of the Italian island of Lampedusa, after a migrant ship carrying as many as 950 people capsized Sunday.
Italian prosecutors said a Bangladeshi survivor flown to Sicily for treatment told them 950 people were aboard, including hundreds who had been locked in the hold by smugglers. Earlier, authorities said a survivor told them 700 migrants were on board.
It wasn't immediately clear if they were referring to the same survivor, and Premier Matteo Renzi said Italian authorities were "not in a position to confirm or verify" the death toll.
Prosecutor Giovanni Salvi told The Associated Press by phone from the city of Catania that a survivor from Bangladesh described the situation on the fishing boat to prosecutors who interviewed him in a hospital. The man said about 300 people were in the hold when the fishing boat overturned, and that about 200 women and dozens of children also were on board.
Maltese Prime Minister Joseph Muscat labeled the disaster the "biggest human tragedy of the last few years."
The 66-foot vessel may have overturned because migrants rushed to one side of the craft late Saturday night when they saw an approaching Portuguese-flagged container ship, the King Jacob, which was sent to the area by Italy's Coast Guard. The ship's crew "immediately deployed rescue boats, gangway, nets and life rings," a spokesman for its owner said.
Eighteen ships joined the rescue effort, but only 28 survivors and 24 bodies were pulled from the water by nightfall, Renzi said.
These small numbers make more sense if hundreds of people were locked in the hold, because with so much weight down below, "surely the boat would have sunk," said Gen. Antonino Iraso, of the Italian Border Police, which has deployed boats in the operation.
Asked whether migrants rushed to one side as the Portuguese vessel pulled close, Iraso told Sky TG24 TV that "the dynamics aren't clear. But this is not the first time that has happened."
Renzi praised the container ship for quickly responding on what would become its fifth recent rescue operation.
"Since the waters of the Mediterranean Sea are not too cold at the moment, the authorities hope to find more survivors," said International Organization for Migration spokesman Joel Millman.
Italian and Maltese ships were involved in the search and rescue operation. Muscat put the number of survivors at 50.
It was not clear whether Muscat's figure included the 28 survivors reported by Italy.
Muscat said rescuers were seeing people in the sea and were "checking who is alive and who is dead."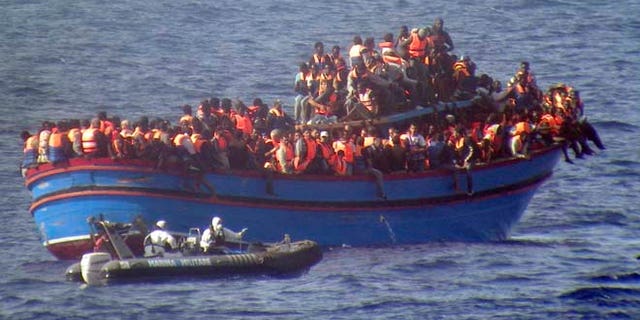 Given the depth of the sea -- as deep as 3 miles or more in the area -- it was possible that many bodies would never be recovered. This has commonly been the case in similar tragedies off the coasts of Libya, Italy, and other Mediterranean nations in recent years.
Pope Francis was among those following the news. "There are fears there could be hundreds of dead," Francis told the faithful in St. Peter's Square. He bowed his head in silent prayer as did many of the tens of thousands in the crowd. For a second day running, he called on Europe to do more to help Italy manage its continent-leading flow of migrants.
Renzi summoned his top ministers to a Sunday night meeting in Rome to discuss the latest tragedy.
"The numbers (of the dead) are still provisional but the numbers are destined to rise," Renzi said. "How can it be that we daily are witnessing a tragedy?"
The premier said 18 ships, including cargo ships, were helping in the search mission.
He ruled out any naval blockade off Libya's coast, saying that would only "wind up helping the smugglers" since military ships would be there to rescue any migrants. He also said migrants can't be forced back to Libya, because of the violent chaos there.
Rescuers reported seeing wreckage in the sea.
"There are large fuel stains, pieces of wood, life jackets," Iraso told Sky TG24 TV.
The numbers of migrants attempting the dangerous crossing by sea from Libya swells as the springtime weather improves, providing calmer seas and warmer water temperatures. But the smugglers' boats are frequently overcrowded or unseaworthy.
So far this year, more than 900 have died in failed crossings. Last week, 400 people were presumed drowned when another boat capsized.
Spain's prime minister says words aren't enough anymore and he urged the European Union to take swift action.
"Today, and this is the umpteenth time, we hear of yet another human tragedy in the Mediterranean, off the Libyan coast," Spanish Prime Minister Mariano Rajoy told a political rally Sunday. "It's a daily drama. Three days ago it was 400 people. Four days ago they were 10."
Rajoy says a response has to come from Europe and that "words won't do anymore." He says "we have to act, and as Europeans we are gambling with our credibility if we aren't able to stop these dramatic situations that are now happening on a daily basis."
The head of the United Nations' refugee agency says the latest deaths of migrants at sea in the Mediterranean show the need for stronger rescue capabilities.
U.N. High Commissioner for Refugees Antonio Guterres said in a statement Sunday that the capsizing of an overloaded boat in Libyan waters "confirms how urgent it is to restore a robust rescue-at-sea operation."
He says that "otherwise people seeking safety will continue to perish at sea."
The Associated Press contributed to this report.