Honduras opposition candidate charges fraud in election, calls for protests, vote recount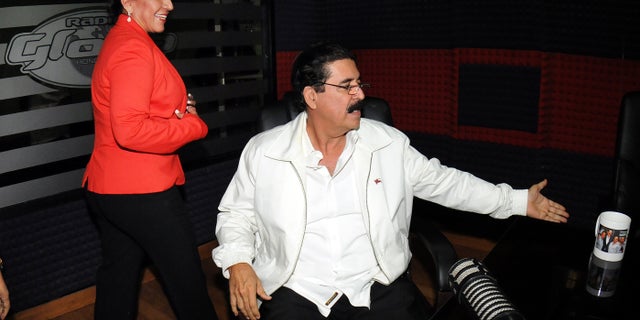 NEWYou can now listen to Fox News articles!
TEGUCIGALPA, Honduras – Opposition candidate Xiomara Castro announced Friday that she won't recognize the result of Honduras' presidential election because of alleged voter fraud and called on her supporters to protest the win by the ruling party candidate.
Castro, whose husband Manuel Zelaya was ousted in a 2009 coup, told a news conference that she would demand a vote-by-vote recount of Sunday's balloting, which she described as "a disgusting monstrosity that has robbed me of the presidency."
Honduras' electoral court declared conservative Juan Orlando Hernandez the winner of Sunday's presidential election. The court says he received 36.5 percent of the votes compared to 28.8 percent for Castro, with 93 percent of the votes counted. Six other candidates shared the remaining votes.
Claiming her campaign had "innumerable examples" of voting irregularities, Castro said "we are not going to accept the results released by the Supreme Electoral Tribunal and we will not recognize the legitimacy of the government that is the product of this shameful assault."
Castro, 54, presented what she described as evidence of fraud and provided a document detailing alleged irregularities.
Castro led for months in the polls until Hernandez, 45, erased her lead by presenting himself as the law and order candidate in an impoverished country with the world's highest homicide rate and much of the cocaine traveling from South America to the U.S.
The European Union and the Organization of American States observer missions have released reports calling Honduras' election process transparent despite some irregularities.
The electoral court has acknowledged that there were delays in the vote count because 20 percent of the vote tallies from the polling stations couldn't be fed into the scanner and needed to be counted by hand. Former President Zelaya said Wednesday that the fraud occurred in that 20 percent.
But Jose Antonio de Gabriel, deputy head of the European Union's team of election observers, said the irregular votes came from all over the country and not from areas that heavily favored Castro.
The U.S. State Department issued a statement congratulating "the people of Honduras for their strong participation" in the election.
"We note that Organization of American States and European Union electoral observation mission reports reflect a transparent process," it said earlier in the week.
Castro's campaign was considered an attempt at a political comeback by Zelaya, whose ouster left Honduras politically unstable. Poverty and violence have worsened over the last four years under outgoing President Porfirio Lobo.